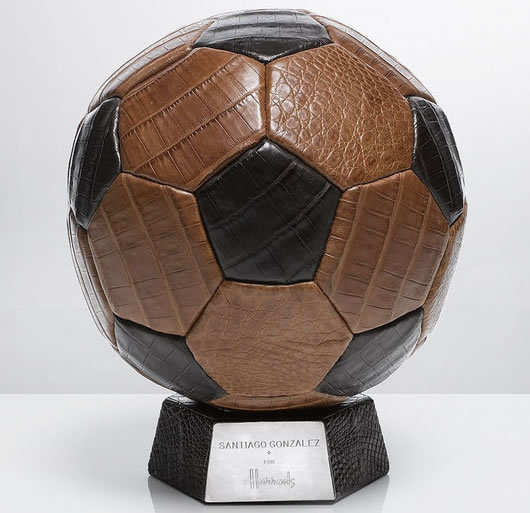 Have you noticed the lack of posts on PurseBlog in the past week or two? I am almost embarrassed to say it is because Vlad and I have become so enthralled following World Cup Soccer that our work productivity has been compromised. As much as I love sports, soccer has never been my favorite sport. But there is something about a World Event that sucks me in. I even jumped off the couch this morning during the USA win over Algeria. It is that bad.
I saw this the other day and I could not pass up sharing with you all. As I said, my mind is on soccer right now, but I was waiting to see which designer would create a soccer themed item. While not a handbag, Santiago Gonzalez of Nancy Gonzalez created a Crocodile Skin Soccer Ball designed for Harrods. The item is no longer is stock on the website (sold out?!).
While the price tag of $5,200 is steep, I have to admit that I love the dark brown hexagons paired with black pentagons. This ball was put on a stand, but I kind of wish it wasn't. I want to imagine myself putting on my designer heels and kicking the ball around the house. Because while seemingly ridiculous, it is kind of an awesome idea.
I know many people will find this design absurd, but it is meant to be a luxury item for a soccer lover. This is just an art piece, but a very cool exotic one at that. Price was $5,200 via Harrods.