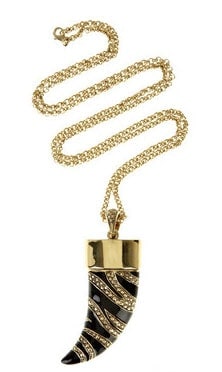 Well isn't this…useful.
Let's think for a moment about who exactly might be the target consumer for the Roberto Cavalli Gold-Plated USB Stick Pendant. A fashion editor? No, I don't think she'd want to wear the same necklace to work every day. A graphic designer? No, USB stick drives are probably exchanged and tossed around so much in that profession that having one that's also an expensive designer necklace is probably counterproductive.
What about a lady spy? Yes, that's it! A lady spy. Like Angelina Jolie's character in Mr. & Mrs. Smith. The ultra-luxe necklace would secretly contain important documents that the lady spy has to transfer to another secret agent, and when the bad guys toss her hotel room an an attempt to intercept the documents, they'd never think that a necklace could also be an electronic device.
It's so James-Bond-y, but in a feminine way that's probably also completely impractical. But when has Cavalli ever embraced practicality? I'm merely surprised that he didn't also find a way to make it change all of your files to leopard-print backgrounds. Buy through Net-a-Porter for $565.