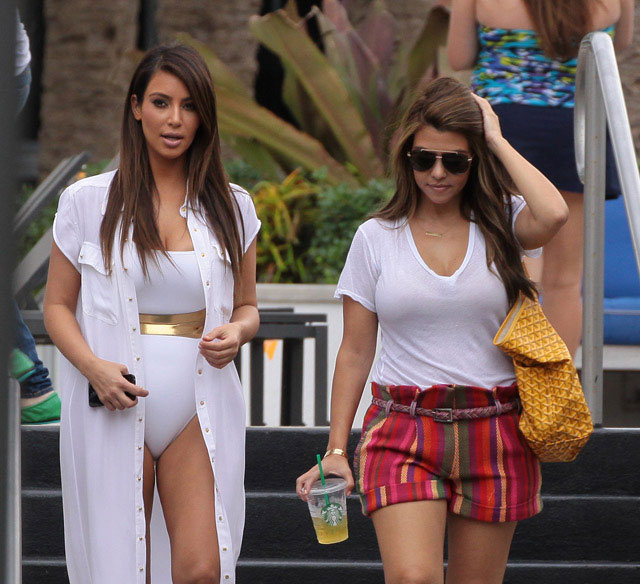 I know, I know. From the title of this post, I know what you must be thinking. Oh joy, another Kardashian-inspired post! (Apply either a sarcastic or gleeful tone, whichever you feel is correct.) The Kardashian sisters are in Miami filming yet another season of Kourtney and Kim Take Miami, and earlier in this week, Kim and Kourtney Kardashian spent a glamorous day at the beach. Well, maybe "glamorous" isn't the correct word – their presence brought out both a huge paparazzi mob and lots of rubber-neckers. So maybe for them, it was just another typical day at the beach.
Kim was spotted wearing a white one-piece Michael Kors swimsuit, a somewhat out-of-the-ordinary wardrobe choice for her killer curves, while sister Kourtney was dressed, oddly, like a totally normal person. Wearing rainbow-stripped shorts and a plain V-neck tee, her most glamourous accessory was her yellow Goyard St. Louis bag. (more…)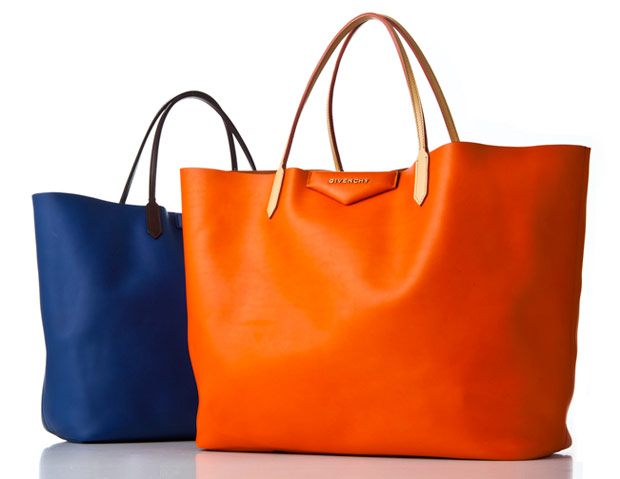 As we all know by now, Pantone announced last month that 2012's Color of the Year would be "Tangerine Tango" – a vibrant, saturated, deep orange that looks almost hot to the touch. With so many blazing bright colors dotting the runways as of late, the declaration seemed like Pantone's most accurate in a long time. When I clicked over to Bergdorf Goodman today and saw the beautiful, sunny Givenchy Antigona Tote daring me to get out my credit card, I knew in my heart that Pantone was indeed on to something big. (more…)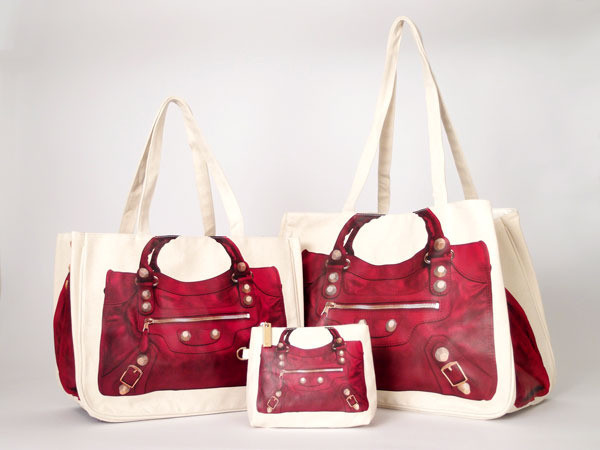 First Hermes (and then no more Hermes because they got sued), then Chanel and now Balenciaga – tote company Thursday Friday seems like it won't be satisfied until every iconic handbag under the sun (except any made by Hermes because, well, you know…) has been immortalized on its Thursday Friday Together Tote Bag. This one, naturally, is called the "Moto." Clever. (more…)
Anya Hindmarch Printed Totes, $295 via Net-a-Porter in Beach or Homework Print
We all know that I can get a little bit feisty when I feel like companies are trying to cash in on their good name by shilling overpriced, under-designed canvas tote bags to their hungry fans, but Anya Hindmarch is always a notable exception to my personal canvas rule. Instead of merely slapping some leather handles and her logo on a canvas tote that you could get anywhere, Hindmarch's design team actually take the time to, you know, design something.
With something like the Anya Hindmarch Printed Canvas Totes, you still get all the simple usability that you need out of a big, simple, lightweight bag. You also get a healthy dose of British humor, which I think makes the price tag a little bit more palatable. (more…)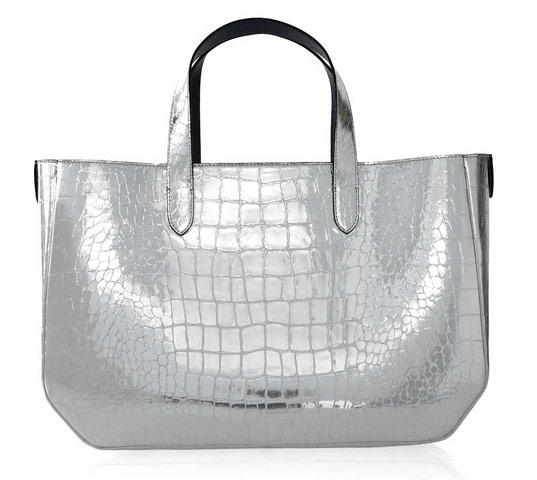 Marc Jacobs Cosmic Croc Embossed Leather Tote, $1995 via Net-a-Porter
I've been visiting my family in Atlanta for the last week, and because of the relatively temperate weather we've been having the South, I'm having a hard time remembering that the intense part of winter has yet to come. I haven't worn a coat of any kind for seven full days. It's sunny and shiny and happy outside. Snow? What's snow? I've never heard of snow.
That being said, that's probably why I looked at the Marc Jacobs Cosmic Croc Embossed Leather Tote and thought, "Oh, how perfect to take on a swanky resort vacation or pair with a sundress or, you know, whatever as long as the weather's warm!" Except that the weather isn't going to be warm for, like, four or five months. Sigh. (more…)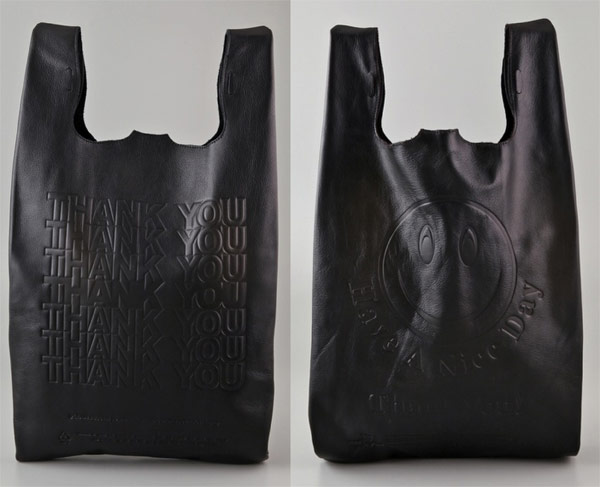 Cast of Vices Corner Store Leather Totes, $240 via ShopBop
Everyone is familiar with the plastic bags that the Cast of Vices Corner Store Leather Totes mimic, but as I've come to learn over my first six months in Manhattan, New Yorkers have have an even deeper connection to these little plastic totes. New York's healthy population of bodegas, delis and mom-and-pop takeout joints keeps a steady stream of these bags flowing into use in the city, and where suburbanites might find themselves using a Target or Kroger bag to line their bathroom waste baskets or carry their lunches to work, in New York, the odds are that it'll be one of these generic designs instead. (Or a Duane Reade bag, but I try to pretend Duane Reade doesn't exist.) (more…)