Belstaff, a British brand founded in the 1920s that recently expanded on its tried-and-true collection of outwear to include women's ready-to-wear, handbags and shoes, stumbled a bit out of the gates when it launched bags last season. The branding was too obvious, the details didn't feel as luxurious as they should have and the prices were, to put it blunty, high. Creating a handbag line from whole cloth is difficult, though, so we were hopeful that Belstaff would learn from its errors and come back with a second effort more befitting of the brand's heritage. Thankfully, that's exactly what they brand has done.
The Belstaff Catherine Bag, rendered in gleaming box calfskin, is a bag intended for a grown woman. It doesn't have the weird Belstaff-branded tire tracks that many of the brand's previous bags had, and the details are spare and refined. It's difficult to tell from the front, but the structure is that of a zip-top doctor's bag, with a wide base and structured construction that makes the interior easy to navigate. It's a traditional, functional look that easily telegraphs the British heritage look that the brand is clearly attempting to capitalize on in its women's offerings.
Perhaps my favorite part of this resurgent Belstaff bag line, though, is the adjustment in pricing. This go-anywhere day bag will run you $1,595 in burgundy or black via Neiman Marcus, a price that's well in line with other, similar offerings on the market, and maybe even a tad lower than expected. Strategic pricing is certainly one way to attract new fans, and I'd maybe even use the f-word to describe my feelings about Belstaff's Fall 2013 handbags.
---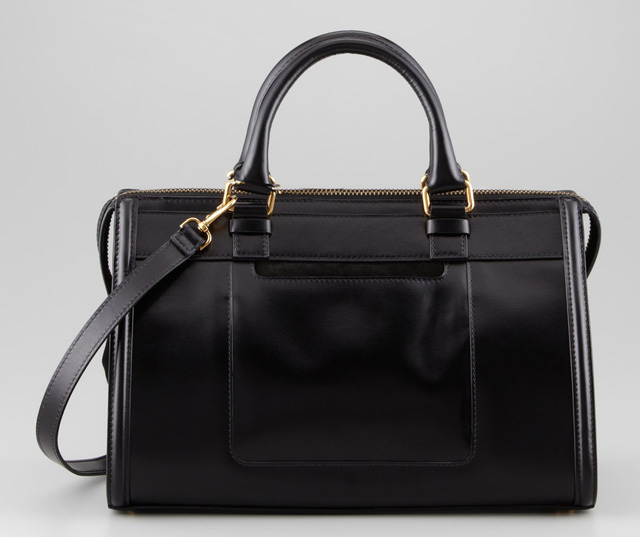 ---