I'm still not entirely convinced that I would pay more than $300 or so for anything made out of raffia (Except for possibly a thatched hut on a tropical island. Do they make those out of raffia?), but that doesn't stop thousands of women from doing so every year and dozens of brands from cashing in on their desires for a luxurious beach bag.
I'm also not sure that I'd take the Dolce & Gabbana Miss Charles Raffia Flap Shoulder Bag anywhere near the water, but if a fabulous beach party were top pop up somewhere (Preferably with a bonfire, I love a bonfire.), then this might be the type of bag that I would be inclined to carry. If, of course, I could bring myself to over a thousand dollars on straw. Ladies and gentlemen, that's a really big "if." (more…)
If you're a longtime reader of this blog, you may or may not remember (and if you don't, I certainly don't blame you) that I have never been an overwhelming fan of Derek Lam's handbags. Lam's clothes tend to be great and wearable, but when it comes time for accessories, his thing has never been my thing, so to speak. Finally, though, I've found a bag of his that I like without reservation or qualification: the Derek Lam Eiko Shoulder Bag.
Minimalism gets boring quickly when combined with neutral, noncommittal shades of beige and cream, but Lam's decision to turn up the volume with an in-your-face shade of orange-red shows just how statement-making and bold the trend can be. In some ways, this bag reminds me a lot of Raf Simmons' Jil Sander Spring 2011 collection: a familiar shape made modern by bright, saturated color. (more…)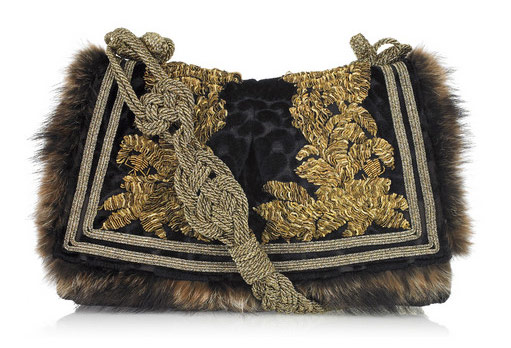 My personal feelings about fur notwithstanding, when I first saw the Roberto Cavalli Squirrel-Trimmed Brocade Shoulder Bag, it actually seemed like a rather judicious and attractive use of the material. And then I read the word "squirrel," and it screwed up my entire perception of this bag's reality.
Is it just me, or is there something positively Deliverence-esque about wearing squirrel fur? Are European squirrels more chic than their American counterparts, or are the animals just not regarded the same way in other countries? And if they are regarded the same way, why use a material that has such low-market connotations on a bag with a four-figure price tag? (more…)
Christian Louboutin has been far more successful with shoes than he has been with bags, and I'm having a hard time figuring out exactly why that is. Surely the design processes for each is decidedly differently, but for a brand with as many resources and as much style as Louboutin's, I would expect better results.
Most of CL's shoes have an inherent feminine sass to them that just doesn't come through in designs like the Christian Louboutin Trophe Stud Bag. Louboutin has designed many a gorgeous shoe featuring zippers and studs, but his bag design with the same motif just doesn't work exactly like it should. (more…)
If you think that drawstring bags are too trendy and youth-focused to be relevant to your day-to-day style, the Donna Karan Metro Bags is here to prove you wrong. It's current and stylish without being too obviously trend-driven, which is the perfect combination for an everyday bag. (more…)
Even for a dedicated lover of Balenciaga handbags like me, it can sometimes be hard to remember that the brand makes purses other than their famed motorcycle bags. When the brand is mentioned to me, I always conjure up an image of a City or Day bag with giant silver hardware, but there's much more to Balenciaga's accessories that just that. If you haven't seen (and felt) the Balenciaga Chaine Bag in person, you're missing out.
BlueFly claims that this bag is made of calfskin and I have no real reason not to believe them, save for the fact that it might be the softest leather that I've ever felt in my entire life. I'm not one to exaggerate needlessly, so believe me when I say that you've got to feel it to understand just how divine this leather really is. (more…)
No one knows exactly how long the mini crossbody trend will last, but put me on the record as hoping that this shape stays around as a wardrobe staple for years to come. Not only are minibags delightfully functional, but they're easily modified to embody nearly any style from hippie to industrial. In this case, the mood of the Gucci 1973 Small Shoulder Bag is clear – it's all about the retro throwback.
This bag comes as no surprise to anyone that saw the looks from Gucci's Fall 2010 runway show – I would have pegged the look as more late 60s than early 70s, but the retro shapes and color palette were omnipresent throughout the bags featured in the show. The altered Gucci logo is the touch that really completes the look. (more…)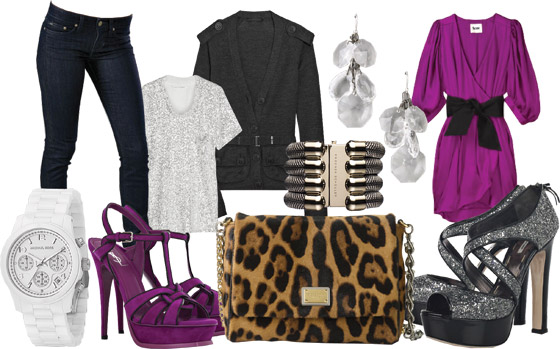 Leopard print has obviously been around forever and the trend has been building for some time, but as far as handbags go, the look is about to reach critical mass. Since some people are apprehensive of the pattern and unsure of how it could fit into their wardrobes, we've taken the liberty of styling the Dolce & Gabbana Miss Charles Leopard Print Bag for both night and day to demonstrate leopard's versatility.
This bag is particularly appropriate because of its petite size and mix of hardware – it can be paired with silver or gold and used night or day. Leopard provides an interesting opportunity to create visual interest through mixing textures because multiple attention-grabbing colors would compete with the pattern, and I particularly love how it looks with dark pinks and metallic touches. Details for each piece are after the jump. (more…)
You hear that? I'm swooning. Pretty hard. I'm a bit desensitized to beautiful handbags in the same way that I imagine fashion photographers are desensitized to beautiful women – when you look at them all day from a business perspective, it's can be kind of hard to recapture the feeling of excitement that they once gave you. Well, folks, the Pauric Sweeney Metallic Python Shoulder Bag has me giddy like a schoolgirl all over again. How could it not? The charms of this particular purse are so many and varied that I barely know where to start. (more…)
I wish with every fiber of my being that more online stores stocked vintage luxury bags. There's something that I find so alluring about vintage – much of it, particularly those items made by luxury houses, has the feel of true exclusivity that even most high-end bags are missing these days.
Most of us know that almost everything we buy is made in factories, not by a talented artisan that cares about his work, and that makes luxury goods a bit less fun. With vintage, at least we can pretend that it was made by a guy named Francois in a picturesque workshop, diligently sewing bags while wearing a beret and smoking a hand-rolled cigarette. Or at least that's what happens in my head. Perhaps Francois had a hand in the lovely Chanel Vintage Speedy Bag? I bet no one can prove to me that he didn't – it's vintage, after all. (more…)
Happy Friday PurseBlog readers! In addition to being happy for the simple fact that it is Friday, I am really happy to share an exclusive with you. Today through May 13th, you can receive 30% off any of the Linea Pelle Joey Bags! In typical fashion, these bags are fabulous and versatile. And hey, with Mother's Day around the corner, perhaps this would be perfect for a last minute gift.
Enter this code at checkout: PRSEBLG30