Sample Sales
All of us East Coasters went crazy at the Rebecca Minkoff Sample Sale in NYC (and we scored major loot), and now all of our West Coast ladies can as well. Today and this weekend, Rebecca Minkoff is hosting her Los Angeles and San Francisco Sample Sales. Each is bound to have plenty of loot at amazing prices. If you are able to stop by, have a plan in mind and make sure your arms are strong enough to hold many bags at once. Info after the jump! (more…)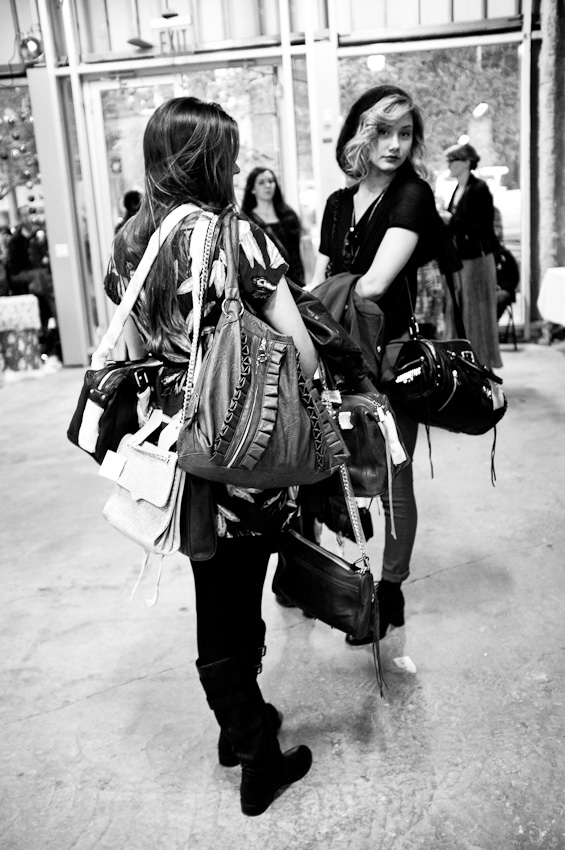 The current Rebecca Minkoff NYC Sample Sale is still ongoing until Sunday, 5pm EST. If you are in town, we suggest you swing by and score your favorite bags below retail. The SS is located at 14 W 14th Street.
Below are a few impressions I collected on the opening night on Tuesday. Enjoy! (more…)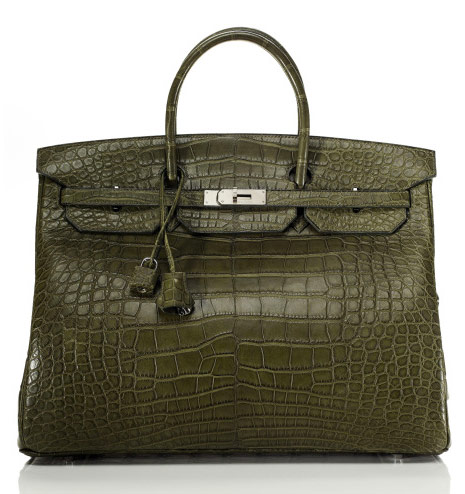 Hermes handbags, accessories and scarves? On sale? We could barely believe it ourselves, but we caught word late yesterday that Hermes would be hosting its New York City sample sale this morning, starting at 9 a.m., at Soiffer Haskin, 317 W33rd Street.
So that's like, what, an hour from now? Just enough time for you to fake a hacking cough, call in sick to work and get in a taxi headed straight for…West Midtown? North Chelsea? What area is that exactly? Or I guess you could get on the subway and head for Penn Station, but as anyone who's even been in Penn Station knows, that's a last resort. For discounted Hermes, though, it might be worth it. The sale runs from until 8 p.m. today, and if you absolutely can't make it, you can also try your luck between the hours of 9 a.m. and 6 p.m. on Saturday and Sunday. If you go, please report back with what you bought and what they had!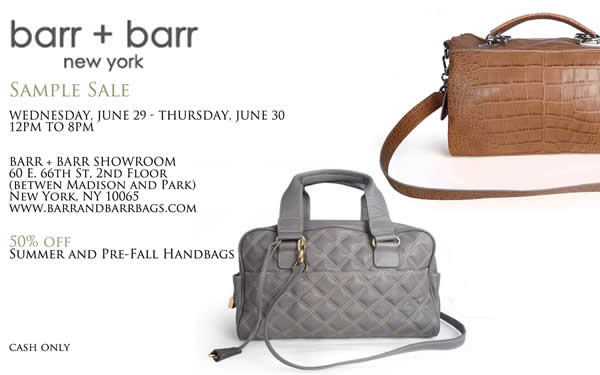 Last week Vlad and I popped into the barr + barr showroom to take a look at their bags. Two things: this is a newer brand to me and this brand produces many designs. I truly enjoy finding new brands (even if just new to me) to share with you all. The designs are functional, many sporting a long shoulder strap, with options that range from every shape and size we have grown accustomed to. (more…)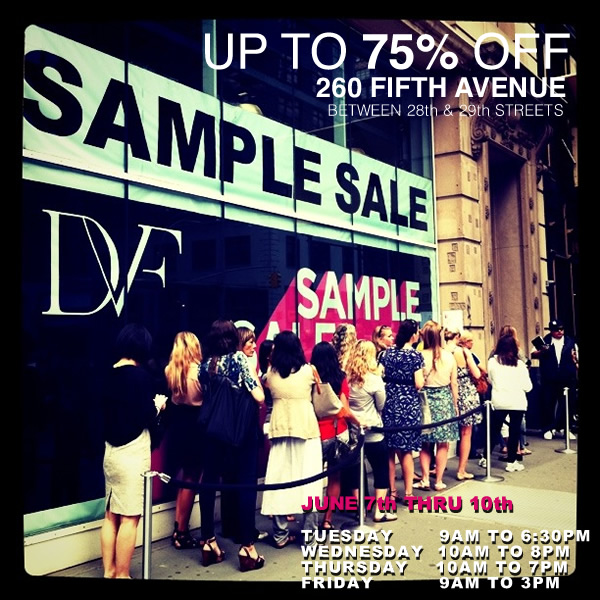 This morning the Diane von Furstenberg Sample Sale opened its doors to the press. I rolled out of bed earlier than usual but it was all in the name of fashion, obviously worth it. The line was manageable, with only about 15 people in front of me, and I was allowed in soon after the doors opened at 8AM. (more…)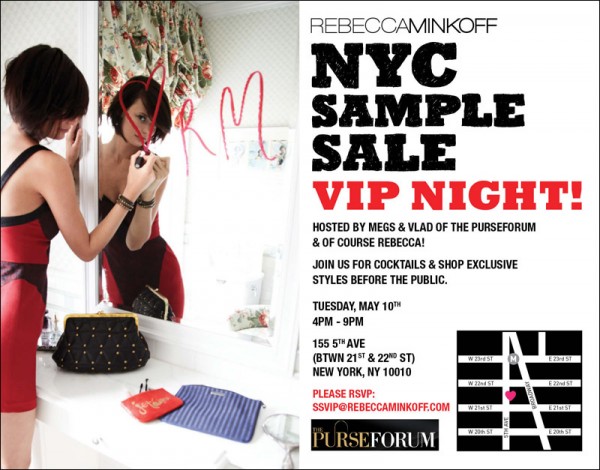 It is Sample Sale Season again. One thing I have loved about living in NYC is the ability to literally walk down the street and find sample sale after sample sale when the season arrives. One of our favorite SS to attend is Rebecca Minkoff's, not only because we love her bags but also because we get to host it with Rebecca herself. (more…)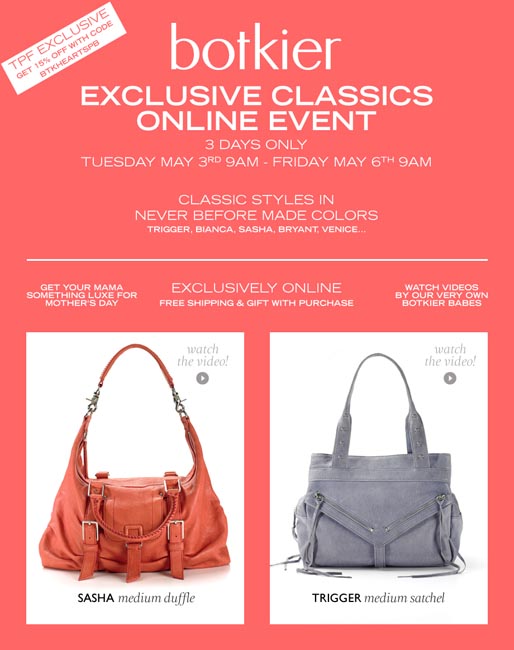 As we first told you about last week, this morning marks the beginning of Botkier's first online sample sale, featuring classic bags like the Trigger and Sasha in never-before-sold colors and materials! Because Botkier loves you guys, they've given us a code for our readers to take 15% off your purchases at the sale, which will be online until 9 a.m. Friday. Hurry! The best stuff always goes first!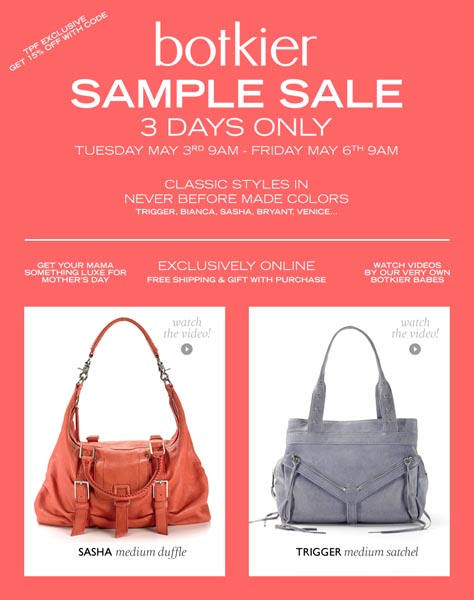 Don't you just love the Internet? The deal-laden world of sample sales was once restricted only to those living in the world's fashion capitals, but now more and more brands are bringing their sample sales online to give their worldwide fans a shot at some serious savings. PurseBlog favorite Botkier is staging its first-ever online sample sale on Tuesday, and not only will it include some of your favorite Botkier bags in never-before-seen colors, but you'll get an extra 15% off the top, just for being a loyal PurseBlog reader or PurseForum member. Check back on Tuesday at 9 a.m. for a live link to the sale and the discount code, but for now, tell us which Botkier bag is your favorite and check out a video of my personal pick after the jump. (more…)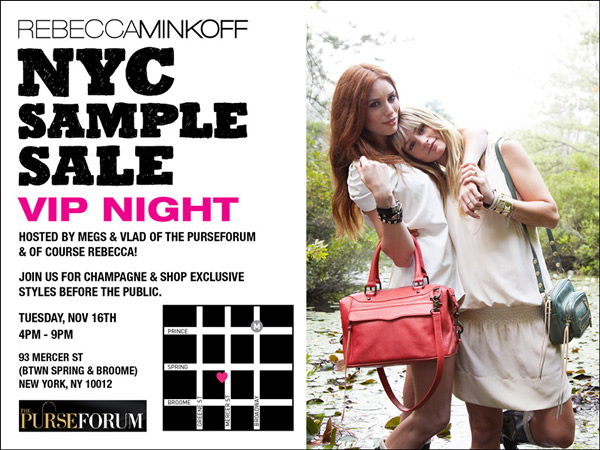 Rebecca Minkoff's Sample Sales are notorious for exponentially long lines and amazing loot. Vlad and I have never been able to make one of the infamous Rebecca Minkoff Sample Sales and this year we finally will be able to not only make the VIP night but also co-host it with Rebecca.
Because of the amazing support PurseBlog + PurseForum has shown to Rebecca Minkoff, she has a special VIP night for our readers and members. You can all shop her sale before the rest of the handbag loving world. Join us Tuesday night if you can make it, and if not check out her Sample Sale the rest of the week! Details below… (more…)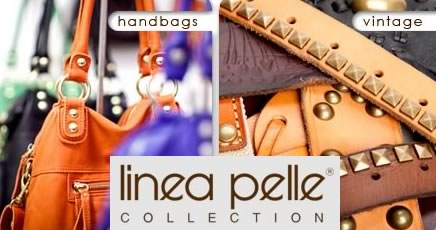 For those of you in the New York area, I am jealous of you, yet again. California based design house, Linea Pelle will be holding its first ever New York sample sale this week!
Speaking on behalf of the entire PurseBlog team, we are all Linea Pelle fans. We have and will continue to cover Linea Pelle on PurseBlog, Purse Blog Savvy and Bag That Style. So, as you can imagine, we are thrilled to be able to share this amazing sample sale with all of you. Make sure to head over and see what you can get, priced up to 75% off retail!
When: Thursday, June 17th, 2010
Time: 10am – 6pm
Where: Linea Pelle 362 Fifth Avenue, Suite 901 New York, New York
And once you snag your new Linea Pelle item(s), make sure to come back and share your purchases with the rest of us who couldn't make it! We can at least live vicariously, right?