It's not hard to see why Jason Wu is one of our favorites; not only is Wu one of America's greatest young designers, but he manages to do ladylike and feminine without making the entire enterprise feel stodgy and old fashioned. He walks a very fine aesthetic line and he walks it very well and to great effect. I'm sure you've noticed the excitement over Wu's impending Target collection, and that anticipation didn't come out of nowhere.
We were lucky enough to get our hands on the lookbook for Jason Wu Pre-Fall 2012 accessories, and the handbags are exactly what you'd expect – elegant without being too stiff, girlish without being too prim. As you could probably guess, my favorites were the brights. Check out the photos and let us know which designs you like in the comments. (more…)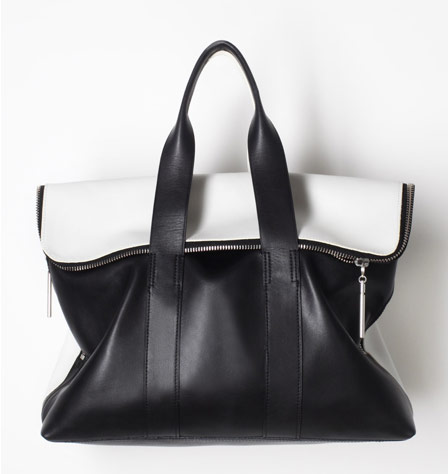 Images via Style.com
If you follow me on Twitter (and you totally should, I'm only annoying about 40% of the time, which is not the majority), you might have seen me get a little squeal-y and excited over 3.1 Phillip Lim's Spring 2012 handbags. There's good reason for that: this minimal, modern, not-astronomically priced collection is easily my favorite of the upcoming season so far. I haven't seen everything yet, but it's going to be hard to beat these pieces for things that I would actually buy and carry.
Why? Because they're basically perfect. These extremely clean, well-edited designs showcase the gorgeous leather with which they were all made, and nearly every piece comes in a host of neutrals, plus blue and yellow. When a bag is this spare, it becomes nearly impossible to disguise flaws in quality or construction, and as far as I can tell, these bags have none. The best part, of course, is that 3.1 Phillip Lim bags generally cost less than a thousand dollars; I defy you to find anything as beautifully rendered at the same price point. Suddenly, I can't wait for spring to get here. Check out more of the collection after the jump. (more…)
Images via Moda Operandi
VBH bags, much like Hermes, are the kind of designs that I don't really need to review. The brand turns out functional ultra-luxury masterpieces that are consistently breathtaking, and if you're a fan of the classics, you're probably a fan of what VBH does. If you're not, you've probably stopped reading already anyway, if you even started. With that in mind, I'm going to skip the "Are these good, or do they suck?" portion of my standard spiel.
So let's just say that VBH's Spring 2012 Moda Operandi pre-sale is happening through November 4th, with bags ranging from $1800 for a clutch to $17500 for a pristine white crocodile satchel. As always, Moda Operandi is members-only, but we've got the full gallery of presale offerings after the jump so that even non-members can start planning their upcoming purchases (or, you know, just drool over the pretty stuff). (more…)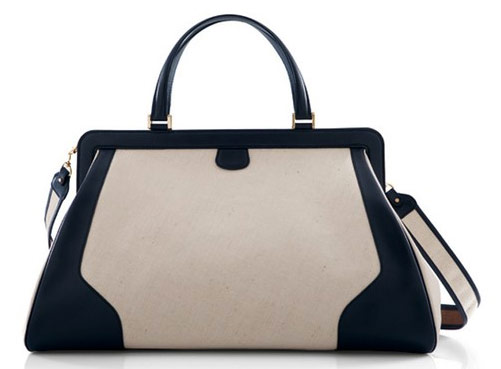 In the past, Italian luxury brand Valextra might have seemed a bit boring to many shoppers (and it probably still does to some). The company's emphasis on fine leathers and extremely simple lines has always appealed to a very specific customer, particularly in light of the brand's sometimes astonishingly high prices. With the fashion world's newfound embrace of minimalism (at least for now), though, Valextra's contributions to the handbag conversation seem more important than ever, which is why we bring you a preview of Valextra Spring 2011.
Some of these bags will look familiar, particularly the unchanged iterations of the popular Babila tote, but the unfamiliar pieces like the satchel at top and its blue jean leather counterpart stand out above and beyond their collection counterparts. If you've never seen Valextra's work in person, I highly recommend doing so – the brand's precision work is pristine, and for a structured bag, it's hard to do much better than one of Valextra's products. Skip the Babila, go for the satchel. (more…)
All it takes is one cruise through Roger Vivier's website to know that the company highly regards the use of wit and whimsy in its shoes and bags, and its Spring 2011 handbag collection follows that path into very literal territory. Whether you enjoy the results or not probably depends heavily on how you feel about your luxury goods having a sense of humor.
For most of these pieces, I find great pleasure in looking at them, and would probably enjoy carrying them every now and then, but their prices will likely be too high to justify buying a bug-covered clutch or a bag that plays home to a school of one-dimensional fish. They're all cute ideas, but for that kind of silliness, I'll look to the much less expensive whimsy of Kate Spade. (more…)
British designer Matthew Williamson is best known for bright, modern prints, and ultraluxury brand Bvlgari is best known for very, very expensive things, so it follows logically that a handbag collaboration between the two would result in a somewhat more modern step for the old Italian label. Williamson brought his signature patterns to several bags for the Matthew Williamson for Bvlgari Spring 2011 handbag collection, but he also managed stay true to his aesthetic in a slightly more muted way with the use of metallic-finished embossed leather. This collection is strongest in its small bags and clutches, where a little dose of pattern or texture goes a long way. (more…)
The next stop in our seemingly never-ending Fashion Week coverage is a look at Nina Ricci's Spring 2011 runway bags, which win the second-place trophy (behind Loewe) for Spring 2011's happiest handbags. From ruffled, applique-flowered clutches to big, soft day bags, spring has sprung all over Nina Ricci.
The bright pink bags are perhaps not the perfect shade for conveying a high-end attitude, but the larger pieces are all made of such obviously soft and supple leather that it hardly matters. Materials can speak volumes on behalf of a brand, and the leather that Nina Ricci chose speaks rather loudly. (more…)
For all of you who watched The Rachel Zoe Project last week, this bag will ring a bell. Behold, the Missoni Chicken Foot Bag that Rachel made a very sour face at while in the Missoni showroom. I was on a personal mission to find the bag and make fun of it myself. I figured it would be ghastly and almost disturbing to look at.
But a funny thing happened. Once I saw the bag I found it, well, somewhat intriguing. (more…)
Confession: I don't watch Mad Men. I know that I should. I know that I'd love it and become utterly and completely obsessed with Joan. I believe all of the people that tell me how great the show is. I have no excuse.
Thankfully, it appears as though Valentino's accessory designers aren't as behind the times as I am. Mad Men's midcentury style has influenced designers far and wide since the show's advent in 2007, and with the fourth season set to debut on AMC this Sunday, the show's fashion caché is unlikely to subside anytime soon.
Fall runways saw a nearly universal embrace of 60s style, including shoes and accessories like the Valentino Jolie Framed Patent Bag. This prim, streamlined handbag would be right at home on Betty Draper's gloved arm. (more…)