Goyard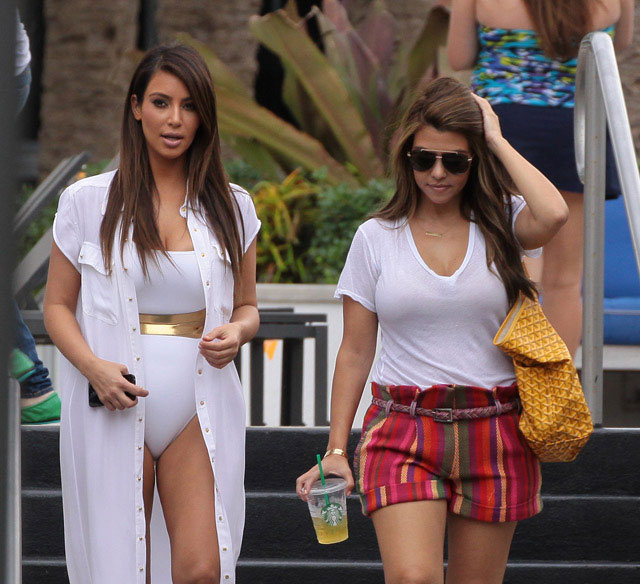 I know, I know. From the title of this post, I know what you must be thinking. Oh joy, another Kardashian-inspired post! (Apply either a sarcastic or gleeful tone, whichever you feel is correct.) The Kardashian sisters are in Miami filming yet another season of Kourtney and Kim Take Miami, and earlier in this week, Kim and Kourtney Kardashian spent a glamorous day at the beach. Well, maybe "glamorous" isn't the correct word – their presence brought out both a huge paparazzi mob and lots of rubber-neckers. So maybe for them, it was just another typical day at the beach.
Kim was spotted wearing a white one-piece Michael Kors swimsuit, a somewhat out-of-the-ordinary wardrobe choice for her killer curves, while sister Kourtney was dressed, oddly, like a totally normal person. Wearing rainbow-stripped shorts and a plain V-neck tee, her most glamourous accessory was her yellow Goyard St. Louis bag. (more…)
Mary Kate & Ashley or You're Invited to Mary Kate & Ashley's; (my favorite was the Mall Party). Now, I respect them more for their uniquely personal style and impact on the fashion world. Combine that with the fact that my favorite handbag and luggage design house is Goyard, and I literally jumped for joy. Well, not really, but I was exceedingly pleased.
I've always been a fan of Mary Kate and Ashley. As a child, when I wasn't reading you could find me plopped in front of The Adventures of
Here, Ashley Olsen is carrying the Goyard Boeing Travel Satchel. I'm sure many of you readers have been curious about the world of Goyard, as the brand doesn't advertise and is sold in few places around the globe. To those people and those to whom I'm introducing this brand: Goyard is very special. I'm conjecturing that Ashley, with her strong involvement in fashion, knows why these bags are such a hidden secret. (more…)