The weather is getting much nicer and I am excited to wander the city and enjoy time outdoors. I've learned to edit the things I carry in my handbag so that I can choose a smaller bag that won't weigh me down for long walks. I fell in love with a version of this Gancini bag when I found it for the best traditional wedding day bags. After a little more searching, I found Ferragamo made this bag in a compact crossbody style. There began my obsession.
The Salvatore Ferragamo Gancini Crossbody Bag is made for your busy lifestyle and can be carried in a variety of ways, including crossbody, on the shoulder, or as a clutch. (more…)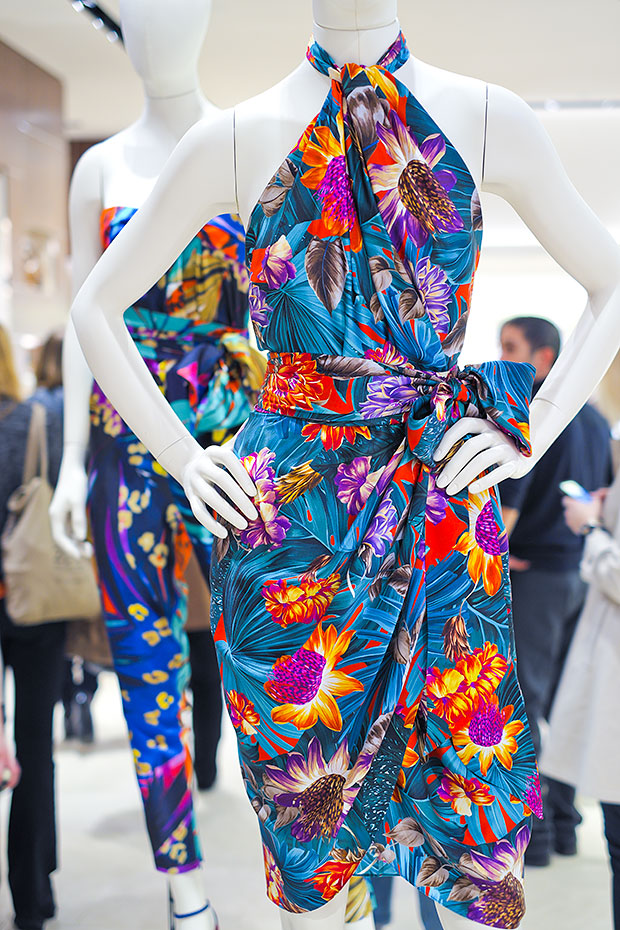 Yesterday I had the pleasure to tour the newly renovated Salvatore Ferragamo flagship store on Fifth Avenue prior to its official unveiling earlier today. Crafty workers were still busy putting finishing touches on the new decor to have it perfectly presentable for the next morning, but all chaotic last minute touches aside, it was easy to see that the redesign was worthy of a true Fifth Ave flagship.
Occupying an area of about 20,000 square feet, the new Ferragamo store now houses the brand's largest retail space in the world. The store extends over two floors, the main floor catering to women, while the second floor is entirely devoted to men's apparel, shoes and accessories.
Personally, I found the revamped flagship to be both characteristic of a luxury Italian brand, but at the same time providing a welcoming retail experience. Lots of walnut wood and luxurious Alcantara accents provide a warm environment, while dark oak and polished steel add modernity. Notably, I found the store to lack unnecessary gimmickry and distracting gadgets; your attention is quickly drawn to the minimalist shelves displaying the gorgeous product.
If you live in town or plan to visit New York City, I recommend you check out the new store and do some damage to your credit line. I myself am seriously considering popping up to Floor #2 and going for a custom suit.