Does anyone remember a little film called The Craft, a tale of four goth-y, snarky teen witches and the classmates that they hated? You have to think back almost 15 years, to a time when I was merely a tween exploring my burgeoning love of black clothing that I have come to embrace now, at this later juncture in my life. I didn't have any social problems in school, but I loved the idea of being disaffected and misunderstood. It seemed like all the coolest people were, at least in the movies, and it also seemed like something that was easy enough to strive for. Obviously, I loved The Craft.
Alexander Wang says that his Fall/Winter 2010 collection was inspired by Wall Street's Masters of the Universe, but I think he might have secretly been a fan of a certain coven of mid-90s conjurers as well. The only things this collection missed were suspenders and Fairuza Balk. (more…)
The Coco is named because of the brass studded bottom, and the designs that feature different studded colors of this new iconic Alexander Wang are named the Rocco. Actually, the name Coco seems to no longer be used for legal reasons (we are trying to find more information). Alexander Wang has made more than a name for himself with the Coco and Rocco Duffel bags. The bags have been on everyone's radar, hard for people to find and hard for those that find them to pass up. Part of the joy of these bags is the seemingly affordable price for a pebbled leather bag with an edgy underside.
Just in, Net A Porter has the Alexander Wang Rocco in black stamped leather with a glossy black studded bottom. No need to discuss it further, you all know the bag by now. If you have been searching, and the brass or silver studs were too in your face, this version may be perfect for you. Buy through NAP before it sells out for $875. (more…)
Since I've been looking at the Fall/Winter handbag landing page at Net-a-Porter every day for months, I thought it was kind of a big deal when they suddenly changed all of the bags in it in the past few days. Perhaps this is only interesting to me since I'm constantly staring at it, but I thought you guys might like to see what's ahead for the new season at NAP as well.
The only bags in this graphic that are particularly compelling to me are the Halston and Jimmy Choo clutches. Of course, I also love the Alexander Wang Coco Duffel, but that's something we've all already seen. What's jumping out at you guys?
Alexander Wang Diego Suede Bucket Bag and had to stop and look into it more. First of all, let me say, this bag is not something I'd probably rock, but I can think of countless friends who would love to have this bag slung over their shoulders. There is something edgy, funky and completely original about this bag. (more…)
First and foremost, I wish I had better pictures of this bag. Since I don't I will make the best of it. I came across this
Coco duffle has been one of the most sought after bags of the season. Congrats to you if you can get your hands on one. It is sure to become a future classic. Wang's relaxed, clean lined modern style has set the ball in motion for more handbag designs such as this slouchy shoulder bag ($780 at Net-a-Porter). Exclusive to Net-a-Porter, this Alexander Wang handbag is perfect for those of you on the wall as to whether you covet the blue denim printed suede or black stamped leather. Now you can have the best of both worlds – black leather and blue suede denim in one handbag. I am also on the fence about this bag, in one sense it is over-sized and unstructured which I love. I also am excited about the dual straps which open on either side instead of a single strap. (more…)
Alexander Wang's

Alexander Wang is fashion's ultimate it-boy these days. He's the king of downtown cool and has played a huge part in the tough leather and shiny studs trends that we're seeing on anything and everyone these days. Whether or not you like him, he has probably influenced what you're going to be wearing for fall.
He showed his Spring 2010 collection over the weekend at New York Fashion Week, and I can't help but think that with all the hype, he couldn't have produced anything that would have wowed anyone. Not genuinely, anyway – so much is expected from him based on his last presentation that he probably would have had to find Jimmy Hoffa in the front row for anyone to be shocked.
But what he gave us was kind of cool anyway. His main influence seems to have been something with which I'm quite familiar – football. Wang took the term "American sportswear" quite literally and created a collection full of deconstructed prepster looks and not-so-subtle nods to athleticism. There were dresses and tops that were constructed partly out of tighty-whitey underwear, deflated football handbags, and even a letterman's jacket or two.
This collection seemed to lack a bit of the intense focus and clear perspective of Wang's previous collection, but there were flashes of greatness. A divine caramel leather jacket worn by Angela Lindvall was among my favorites, and I bet that there are hipsters in Brooklyn right now trying to figure out how to fashion a shirt like the one Magdalena Frackowiak wore out of men's underwear. (more…)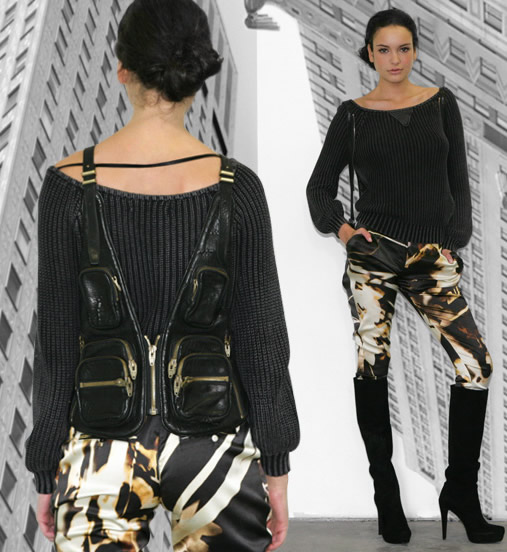 Alexander Wang hit big this season with the must-have Coco Duffel. I liked it, but I wasn't buying it. The reviews coming in have been mixed about the actual bag itself, though I feel like the price was so great it justified a little less quality than expected. Other bags from Alexander Wang include multiple pockets and a look I am just not digging. Don't get me wrong, the celebrity carrying list is long, but a) did they actually pay for the bag and b) I still don't like them. (more…)
Alexander Wang Bianca Vest Bag for some time, wondering if I should write about it. Is it a vest? A bag? Or worse, some incarnation of a fanny pack? But as you can see, my curiosity got the better of me. The following are my musings on this vest bag: Why would anyone wear this?
I've been staring at this
Or even more important, how would anyone wear this? Oh wait. That was a silly question. Clearly this is meant to be worn as a vest, hence the name. But now I'm back to square one, which is the big question of Why Wear This. (more…)