It's always a bit disappointing to be able to look at a bag and know immediately how it could have been better. I can understand that after a certain point, design teams are unable to be objective about their products and less-than-perfect bags get made by every brand, ever season, but I still get a little frustrated when I see one.
The Jimmy Choo Nica Tote would be a part of that group. I like nearly everything about it – the rough, tough finish of the leather, the chaotic tangle of chains that forms the handle attachments, the slightly unfinished feel of the design. All that stuff is great, but the proportion is totally throwing me off – if only the body of the bag had been a bit bigger and a bit wider, I would absolutely love this tote.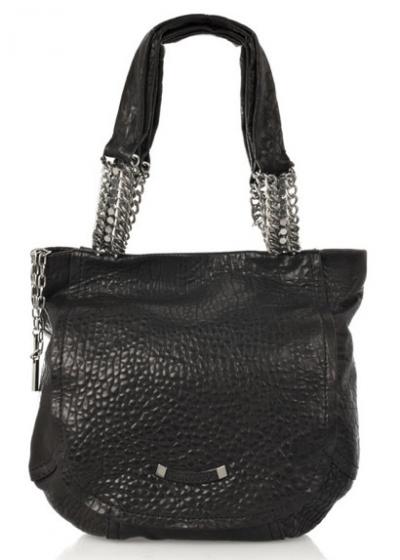 But the bag isn't bigger or wider, so I'm a bit disappointed. I don't know if it's enough to ruin it for me, but I still notice the disproportionate handle no matter how long I look at pictures of the design. Perhaps I'm being too picky – it wouldn't be the first time. I love the size and scale of the handle, however, and the fact that it's not attached to a bag that does it total justice is really too bad. The price isn't terrible, though, so if you don't see the same problem that I see this would be a great bag for fall. Buy through Net-a-Porter for $1695.