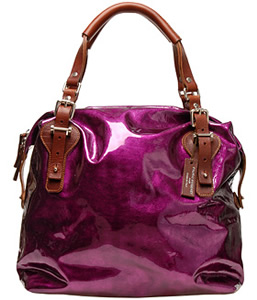 This stunning overnight bag is a favorite among celebrities like Lindsay Lohan and handbag lovers around the world. The Pauric Sweeney Patent Leather Bag is done in eccentric purple metallic patent leather. The color is very bold, so it could not be worn daily (well not if you are me), but would add serious amp to your outfit. There are short brown shoulder handles and a zip top fastening. For a large bag that can fit all of your necessities, this is a great go-to. The dimensions are good to make this bag perfect for overnight, if you happen to get stuck. If the purple/magenta is not your thing, there are more subdued color options and even python available.
Buy the attention-grabbing purple at Brown's Fashion.
Or the Black Patent Leather version is available at NAP for $1410.