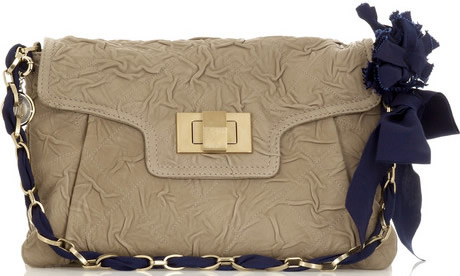 Lanvin is my new obsession. After I saw the Lanvin Happy Partage Metallic Bag I could not stop picturing myself with that bag. Jeans and a white tee, little black dress, skirt. You name it, I pictured myself with it.
Then I saw the Lanvin Wrinkled Shoulder Bag, and while I did not fall head over heels as I did with the other, I still felt love. Lanvin just continues to get it right. Their bags are quirky, colorful, multi-dimensional. I want one. I need one.
The wrinkled lambkin gives an extra dimension to the bag. Without it, the bag is still stunning and I suspect many of you would prefer the bag without the wrinkles. I may be wrong, tell me what you think. The matte gold hardware looks beautiful against the taupe lambskin. Of course there is the signature blue ribbon handle with coin and large ribbon detail. Another Lanvin Love. Purchase via Net A Porter for $2750.