Ok, so if you are reading this, chances are you do a lot of reading online. I certainly do. However, I am still one of those people who absolutely loves to curl up on the couch with a cup of coffee (or glass of wine, depending on the time of day) and pick up a magazine or newspaper to read. There is something almost therapeutic about flipping pages, sipping on my drink and taking everything in. It can be a little more slow paced than reading online which at times is nice.
So, just the other day, while I was doing just this, I came across some beautiful tribal inspired bikinis. I loved the colors and patterns. The look was so different from what you normally see on any given beach. Needless to say, I was a bit inspired. No sooner did I get over this than I came across this brightly colored cosmetic bag.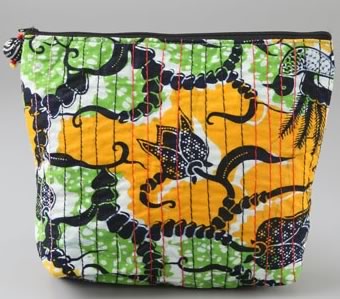 You all know my mini love for cosmetic cases. For some reason, I feel like I love them as much as clutches. Ok, not as much as I love clutches, but I certainly love coming across cute, not boring, cosmetic case. Thankfully, the ZUBA Africa Cosmetic Case is just the kind of brightly colored case I'd love to keep my make-up in. It makes sense that this is brightly colored since it was actually handcrafted by artisans in Rwanda. Just remember, even if you don't like this case, cosmetic cases do not and should not be boring! Buy through Shopbop for $48.