West/Feren McCoy Bag is a versatile bag that can be carried by someone young or someone a bit older. Yes, I think that is what has pulled me in with this bag, the versatility.
Well, there is something I like about this bag yet I can't quite put my finger on it. I do like the tan leather color and the gold hardware. So, that's a start. The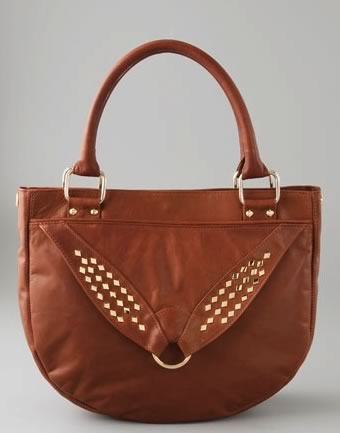 While some of you might be hoping for the stud trend to end sooner rather than later, I don't think it is going anywhere anytime soon. Yet, since it has been at the forefront for a bit now, at least designers are starting to realize what works and what looks simply ridiculous. The diamond-shaped studs at the front of the bag along with a metal ring and snap closure at the flap front pocket work well together. From the picture at hand you would never know there is a detachable shoulder strap option, but alas, there is. Per usual, I wouldn't use the shoulder strap, instead I'd opt for the double rolled handles. Buy through Shopbop for $585.