Don't get me wrong; I love my shearling. I'm just not sure if I'd actually carry it in handbag form. You see, on the feet or on the body, this fabulous fur does a super job of keeping its human warm and cozy. But on a bag? Do your wallet, cell phone, keys, and other doodads really and truly need to be kept warm and cozy? It's quite the existential question, but I won't go into that.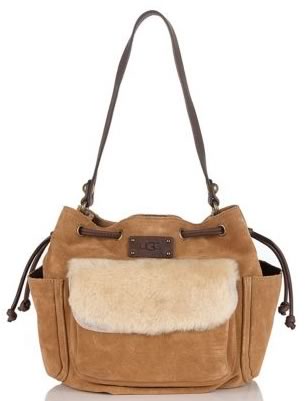 That said, this UGG Australia Shearling Medium Pouchette is quite cute. And given the current fascination (thanks, Chanel Spring 2010) with all that's barnyard and farm-related, this bag might do quite well. But here's my secret thought: I think I'd rather see this worn in the spring and summer than in the winter.
It's because we see so many of the same textures in summer. People wear denim, flouncy dresses, linen and sometimes a hint of suede. But shearling has sort of been banished to the realm of the cold, and I'd love to see it paired with an innocent white embroidered dress. Can you imagine it? More importantly, would you rock this UGG Australia bag, and in what temperature? Buy through Bloomingdale's for $148.