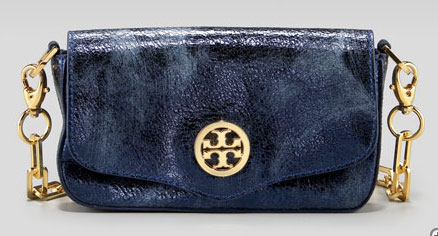 Between the Lanvin Oulala Satin Clutch that I reviewed yesterday for PurseBlog and the Tory Burch Distressed Metallic Mini Bag that we see here, I'm beginning to seriously rethink navy as an evening option. I never would have imagined!
This little gem would make a better case for itself if the hardware were silver (or…ooo…even a dark gunmetal. That would be so modern!) instead of gold, but I can't always have what I want. What I really want to talk about, though, is the color.
The dark, shimmery, entirely beautiful color. I want SOMETHING made out of this leather – the bag, a pair of boots (ooo, with grey tights), whatever. The distressed glimmer is gritty but elegant, and it's surprising that a color that's often considered one of the most boring and staid of all the neutrals. With a bit of inventive finishing, Tory Burch manages to make it look interesting and new. Buy through Nordstrom for $315.