Tory Burch Amanda Mini Bag because I share a name with it. I tend to always dislike things that are also "Amanda," but I quite like this one, and when you're charged with finding eight handbags per day to write about, well, that's reason enough.
I'll be honest with you: first and foremost, I chose to write about the
But upon further examination, my favorite part isn't that the bag and I have the same name – it's that instead of the usual gold hardware, Tory Burch chose to use a beautiful dark silver tone.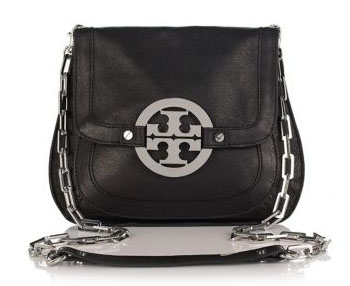 The bag itself is pretty standard, but I think that it's executed very well. The leather that Burch chooses for her bags is almost always incredibly smooth and expensive-looking, and although big logos normally irritate me, the metal charm sort of works here. It looks big enough to hold all of your essentials without being unwieldy, and I could see it easily being taken from day to night. Plus, the price is pretty reasonable. Buy through Bloomingdale's for $365.