This is going to be another one of those posts where I wax poetic about how much I simply cannot resist something that is objectively quite tacky, so if you're the sort that is going to roll your eyes at me over this (again), you might want to stop here and find another post to read. There is absolutely nothing that you're going to enjoy after this point.
Now on to the business of the Sonia by Sonia Rykiel Nylon Leopard-Print Bag. For some reason, this bag takes a lot of things that shouldn't work together, combines them, and somehow pulls it off. I have a theory as to why.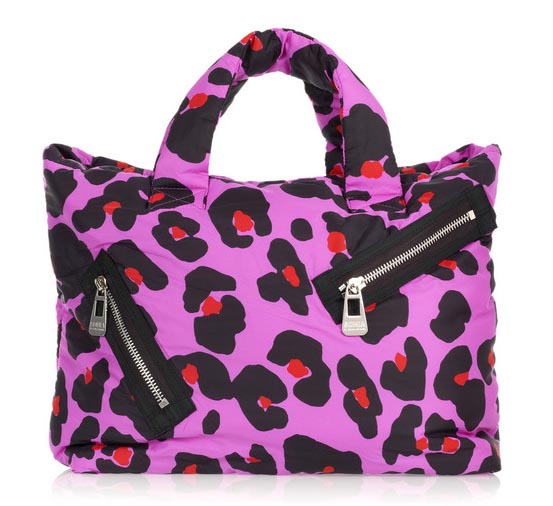 In short, it works because it's nylon. You couldn't do pink-and-red leopard print on a leather (or, god forbid, exotic) bag, but nylon automatically makes a bag casual enough to withstand a lot of look, as Tim Gunn would say.
The size of the bag also helps, in this case. Usually I talk a lot about how bright, non-traditional designs work better on small bags, but when a bag is big and nylon, its potential use as a gym bag means that the need to make sure that it blends into a person's wardrobe probably isn't as important. In fact, I think this would be absolutely adorable as a gym bag, since this particular color combination (minus the red) is so popular in women's athletic wear. Combine that with some rainy day use, and you've got a a spunky, chic bag for occasions that could often use some added style. Buy through Net-a-Porter for $245.