Foley + Corinna Disco City Bag. To me, it seemed kind of lacking in the showy, shiny disco spirit. Sure, it's a little bag that you could strap on and take to a club, but doesn't "disco" mean more than that?
Last week, we spoke briefly about the "disco" component of the
Obviously I'm not the only one that thinks that disco means something slightly more grand and glittery, because the Santi Beaded Disco Bag is definitely much more of an embodiment of the word as I understand it.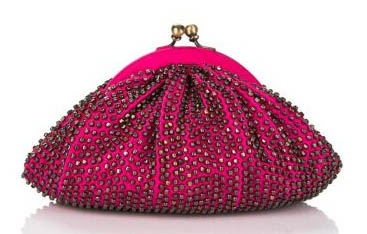 Not only is the bag a bold color, which was popular during the era, but the smattering of shiny studs is a bit reminiscent of what we probably all best recognize from the disco craze – a disco ball. If a slightly yellowed, slightly less shiny one.
It looks like something you could have taken to Studio 54 or something you could take to a club this weekend and pass off as an awesome vintage find, if you're in to fooling folks that don't know any better. Or you could just admit that you picked it up at Bloomingdale's – it's cool enough that any of those options is completely acceptable. Buy through Bloomingdale's for $165.