Here at PurseBlog, we generally have harsh feelings about "embossed" exotics. It always looks like the leather is trying to be something it's not, instead of celebrating its own special unique-snowflake-dom. It usually looks a bit cheap and sad, and those are the two worst things a high-end handbag can be.
But somehow, some way, after some serious trial and error, Rebecca Minkoff has managed to find a way to make fake croc look fab with the Rebecca Minkoff Croc-Embossed Morning After Mini Bag.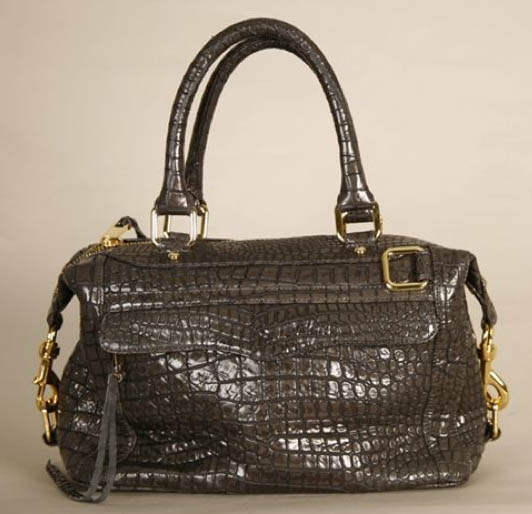 The key to this bag looking high-end instead of cheap is all in the texture. So often, croc-embossing turns normal leather into a stiff, shiny mess that looks more man-made than natural, and a strong resemblance to PVC is not what most bag addicts want. Instead, we have just as much slouch here as we would expect from the regular leather version of this bag, and that helps it avoid that plastic-y nightmare into which it could have turned.
Color choice is also a key to this bag's success (and also why I chose to feature the grey version instead of the yellow). In a bright version, the embossing would only look more unnatural. Keeping the color neutral and natural only helps support the notion that this is, indeed, "croc." Well played, Ms. Minkoff. Buy through Luna Boston for $550.