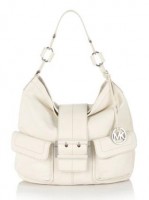 I've said it before and I'll say it again: MICHAEL Michael Kors gives buyers some of the best bang for their buck on the high-end bag market. The brand uses good materials in neutral colors that will incorporate easily into the average wardrobe, and they pair them with shapes that will give their buyers plenty of opportunity to wear them.
Having said all that, I do have a few criticisms of the MICHAEL Michael Kors Camden Leather Hobo, but I don't think that they're enough to mark the bag off of anyone's potential to-buy list.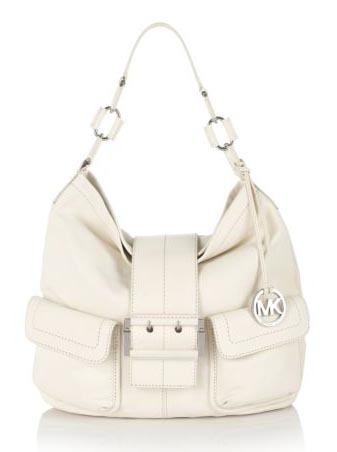 The whole things just seems like it could be a tad more…rich. The body of the bag appears to be plenty soft and slouchy, but I would have appreciated it if the flaps and straps had been made out of the same material – they appear to be more stiff and shiny than the rest of the bag. Unless the construction is impeccable, stiff and shiny almost always look cheap, and you can't get perfect construction at this price point.
What you can get, however, is an attractive, functional bag. That's exactly what the people at Kors have created here, and I'm willing to overlook a slight quibble with their materials. I would have appreciated a few more visual elements, though. Buy through Bloomingdale's for $348.