Marc by Marc Jacobs Party Girl Heart Appliqué Clutch, I can appreciate it's appealing kitsch.
I am not a party girl. Far from it, in fact. I'd much rather stay in, and if I must go to a fiesta, I prefer it to be of the fancy, not-many-people-type. Why? So I can dress up, of course. At my core, I love a good party dress, especially those with flouncy skirts. So while I may not be the girl Mr. Jacobs had in mind for this
Furthermore, the bag is in my favorite color, purple, making my eye run straight to it with only the slightest of reservations. That appealing kitsch is exactly what makes me slightly apprehensive of the clutch. You see, I'm not the biggest proponent of hearts. Smiley faces, small animals, and peace signs I like (especially on Marc by Marc Jacobs pieces), but hearts I barely tolerate on my own clothing. But as I said before, I still appreciate the bag, I'm just not sure if I'd wear it.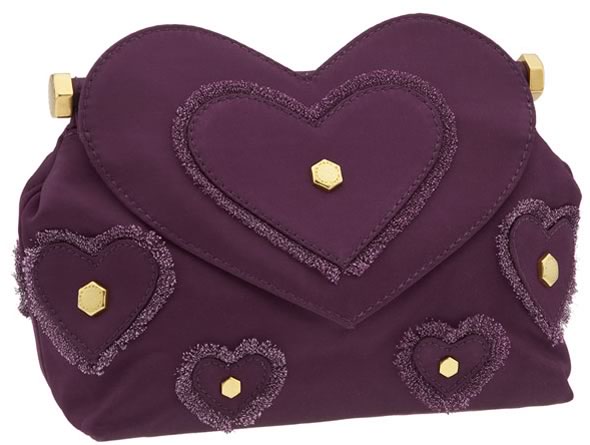 And yet, the hearts are trimmed with what's described as an "eyelash fringe," adding a decidedly hippie, soft, and feathery look to the thing which I simply do adore. But still- hearts? I'm just not sure. Maybe I should just leave it to the party girls. Buy through Nordstrom for $248.