I've gone back and forth so many times on the Marc by Marc Jacobs Classic Q Ukita Flap Bag that I'm not sure that I know which way is up anymore. I briefly considered not writing about it at all, so that maybe one of my blogging compatriots would take the reigns and decide whether or not this bag is good on my behalf.
Sadly, that didn't happen, so here we are. You, me and this Marc by Marc Jacobs bag. It's go time. Stay with me on this one, I might need you.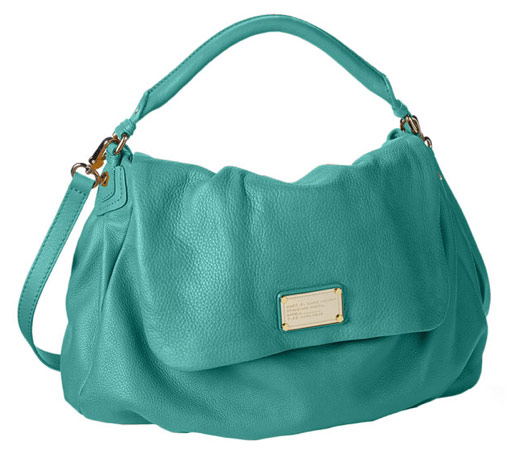 The only thing that's giving me pause is the shorty strap that's apparently supposed to act as a way to wear the bag as a more traditional hobo. Perhaps it's because I've only seen the bag stuffed full of paper on a department store shelf, but the bag didn't seem slouchy enough and the short strap didn't seem long or flexible enough to make shoulder-carrying with anything except the crossbody configuration seem like an attractive option.
Nordstrom has a picture of a woman that looks like she's carrying it comfortably with the hobo strap, so I suppose that it can be done as long as you're willing to break in the leather, but I'm still not sure that I'm convinced that it will be comfortable. Plus, even if you got it to hang nicely, since the bag has an enormous flap, you'll have to take it off your shoulder to access anything inside. And you can't remove the hobo strap when you want to use it as a messenger. Yeah, I think I've talked myself out of this one. Buy through Nordstrom for $498.