Are you perhaps sick of toting around a hundred-pound handbag made heavy by all the super-trendy studs? Maybe you never liked studs to begin with, and you'd like to make fun of their ubiquity. Either way, you'll probably find the L.A.M.B. Freestyle Coventry Pyramid Tote quite amusing.
Instead of being a heavy leather tote covered with even heavier metal studs, this is a nylon bag whose material is printed with the images of lots of different types of studs. It's a fun optical illusion and it made me giggle a little bit, and it's not all that often that a bag makes me laugh. I'm not sure if a humorous bag is worthy of my hard-earned cash, however. That said, it is pretty functional and good for a rainy day…help me decide, after the jump.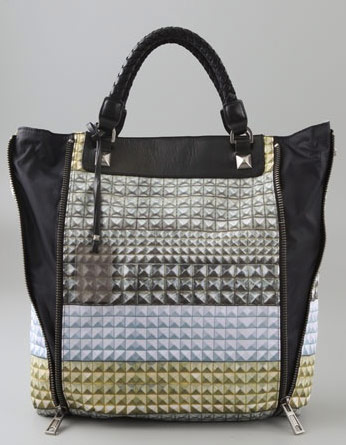 At most, I think this might be a great bag for a rainy day or a trip to the gym. It acknowledges a fashion trend in a smart way without slavishly subscribing to that trend, and a smart design is always a welcome thing in this price range. I couldn't see myself carrying it every day, but it might be fun to have around every once in a while. Buy through ShopBop for $225.