A good rule of thumb for handbags is that the smaller the bag is, the more interesting things can be done with it. Design ideas that would look ridiculous and over-the-top on a large shoulder bag are rendered funky and fun in a smaller proportion, and if there was ever a great way to work some personality into your outfit, a great clutch is the way to do it.
With that in mind, I present the L.A.M.B. Deco Fisher Gilded Clutch.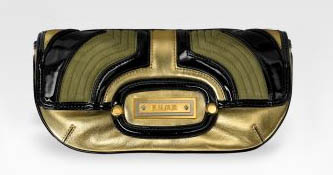 I have very few gripes with this bag. I love the way that the black, gold and army green combine in angular, curvy ways to form the pattern, and in a bag as small as this one, it doesn't look too contrived or cheap.
My one complaint is the shape. I don't like the rounded corners on the bottom of the bag, it doesn't appear to fit what they were trying to do with the top. If they had stayed fairly squared, I might be adding this to my shopping bag immediately. Buy through Saks for $245.