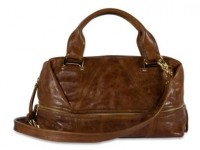 It was merely two days ago that I found myself talking with Megs about how neither of us had seen many Kooba bags around recently. I used to encounter them all the time, much to my delight, but it seems like the brand has slowed down production a bit recently. I'm not sure why, but I'm sure that I don't like it. I have two of their bags and would like to continue adding bags with their signature soft leather to my collection.
Lo and behold, what do I find today? The Kooba Hadley Satchel! It's like the universe has conspired to send me a reminder to not count Kooba out, and they couldn't have picked a better bag to do it with. The Hadley combines several of the brand's signatures that I absolutely love: soft leather with a perfect finish, architectural and unexpected lines and uncompromising wearability.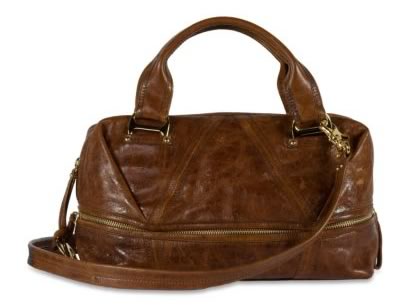 I prefer this bag in the utterly gorgeous turquoise color that you can see in Kooba's spring lookbook, but it doesn't appear to be available for retail yet (insert pouty face here). The brown will have to do for our purposes, and for a brown bag, it has a lot of character. Subtle color variation and weathering is always something that Kooba has done masterfully, and this shade of brown shows it off wonderfully.
I'd wear it in the crook of my arm, but the bag also comes with a removable shoulder strap, which is a feature that I have softened toward in the past six months or so. I used to hate them, but as crossbody bags have become an even more important part of a modern girl's wardrobe, they seem to be a smart idea. Overall, though, I'm just thrilled to come across a Kooba bag and see that they're as good as they ever were. Buy through Bloomingdale's for $425.