A bicolor bag of significant size is a legitimately difficult thing to design well. Since the interplay between the colors is usually the main event, choosing the shades and how they'll be placed is crucial and often makes or breaks a design. Most designers simply don't manage to do it very well.
The Kooba Kelsi Satchel is the rare example of when two colors combine to create a very attractive bag. The lighter and darker shades of red are combined in a way that sort of reminds me of a 50s diner – whether you think that's a good or bad thing will depend on your personal taste.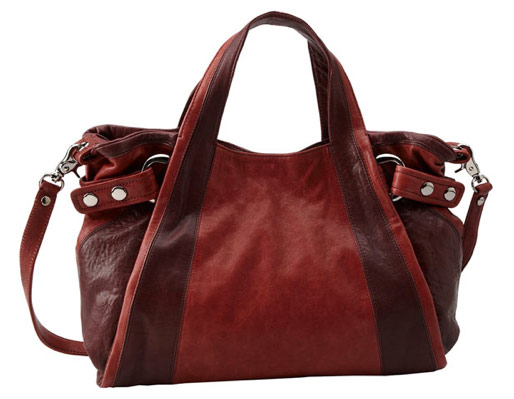 The key to this bag's success is that the combination of colors will likely coordinate well with anything that one of the colors would have matched. Picking shades from the same family certainly makes the design process for a bicolor bag simpler, and it increases the likelihood that a customer can visualize the bag in her wardrobe. Overall, this bag is one of the best bicolor options I've seen recently. Buy through Nordstrom for $349 until the end of their Anniversary sale, $595 afterward.