Kate Spade definitely produces classic bags perfect for any season.
I have to say, I miss the change of seasons. More than that, I miss the glorious array of colors displayed on trees in the north during the Fall. There are so many shades of one color that I usually am at complete and total awe. Then, for some reason, these kinds of staples make me think about handbag staples. There are designers and designs that fall into this category.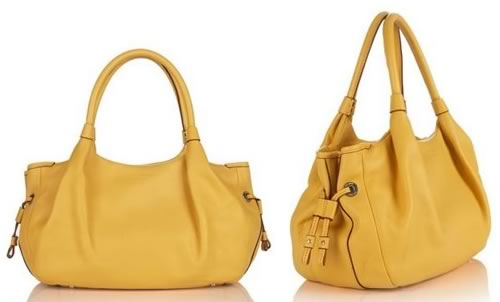 The Kate Spade Tumbled Cowhide Stevie Tote boasts some of the things I look for in a great handbag: a classic shape, a classic design and a classic color. Looking at the bag from the front on, the bag might look a little blah. However, look a bit more and you will see that this is the kind of bag that is full of grace and elegance. The tumbled cowhide is downright touchable. While I am not always a huge fan of drawstrings on handbags, the drawstring accents along the sides of this bag add the right amount of flare to the otherwise streamlined bag. Finally, the color, it is perfect for so many outfits and so many times of the year that this bag will definitely get quite a bit of use. Buy through Bloomingdale's for $395.