You know, I wish this wasn't the case, but, I don't really see anything all that wonderful about the Marc by Marc Jacobs Q 49 Catherine Lambskin Satchel. Is it just me or does anyone else feel the same way?
Yeah, this is a nice enough handbag, but I don't see anything over the top about it. In fact, I'm kind of bored with this bag. To be honest, I don't think I'd use this bag for anything other than a carry-on when traveling.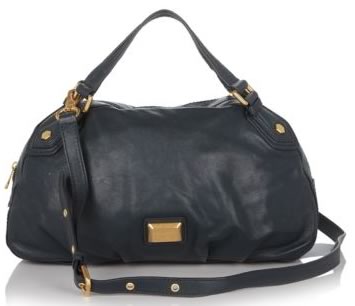 In the spirit of trying to find the best things in a particular bag, let me see what I can pull out of this Marc by Marc Jacobs bag. I do absolutely love the luscious lambskin leather used on this satchel. You can be sure that the leather is as fabulous in person as it is in this image. The antiqued brass hardware adds a nice bit of sparkle but it's definitely not enough to get me to buy the bag. There are plenty of ways for you to carry the bag: use the double handles or the adjustable and detachable crossbody strap. All elements of the bag are nice, but nothing I'll be running out to buy. I need a little bit more out of my handbags, even the most basic handbags. Buy through Bloomingdale's for $358.