I have an affinity for sort of strange types of things that mesh different styles and textures, like nubby hiking socks pulled up and paired with sleek black ankle boots and two-toned tights. The other important fact is that I'm forever on the search for the elusive casual clutch. This Felix Rey Jungle Love Basket Clutch manages to fit that decidedly small and hard to fit bill.
It's difficult to make a leopard print look organic and green and slightly bohemian, but Felix Reysomehow does it, dashing my boycott of the print in one fell swoop. The texture of the woven straw makes the leopard look softer and more print-like rather than glaringly projecting an image of leopard-sexy-animal. This is good, my friends. Aren't you excited to have debunked this stereotype?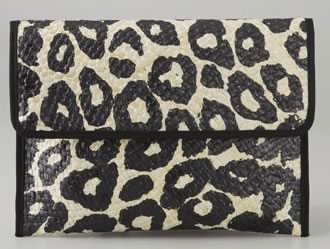 Perhaps you want to keep thinking of leopard print as always being overtly sexy, but I'm all for this variety. I'd pair it with distressed jeans, a vintage tee, a cardigan, and some massive earrings. And perhaps a hat. Bohemian, indeed, but no matter how you pair it, it's going to add some glam, no matter how green. It's a soft sexy, an organic glam- great for a laid-back summer beach bash. Buy through Shopbop for $135.