It's hard to argue that any mainstream designer manipulates pattern better than Diane von Furstenberg, and with that comes an almost equally masterful use of color.
I believe that the Diane Von Furstenberg Signature Garden Beach Tote is the first bag of her company's relatively young line to feature the sort of patterns that first gained notoriety for DVF on her signature wrap dresses, and it's nice to see them cross over into accessories and really tie the line together with the company's traditional aesthetic.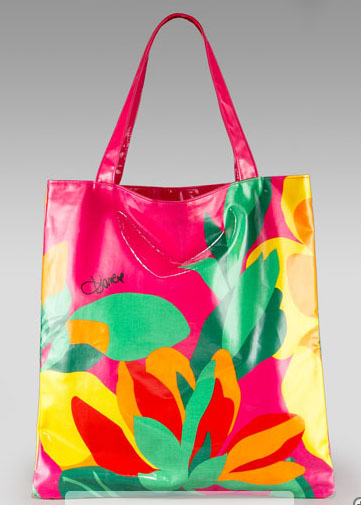 Obviously there's not a whole lot to be said about a beach tote, but this effort from DVF seems to more clearly embrace the genre's idea than many similar offerings from other brands. If you're going to make something that's going to be used in the presence of sunshine and brightly colored bathing suits, why not go neon and tropical? Plus, the material is appropriate beach-ready and the price won't make you afraid to actually sit it down in the sand. Anyone up for a vacation? Buy through Bergdorf Goodman for $75.