Dautore Leather Lattice Tote is a strong design idea, and I can't believe that there aren't a great deal of similarly styled bags on the market right now.
Why hasn't anyone made this bag before? Did someone do it and I just missed it? Because the
And is anyone else looking at this and seeing shades of Project Runway, Season 5, during which Suede made the latticed dress for the Natalie Portman/"green" fabric challenge? Or am I the only one that lets reality shows take up that much of her brain space?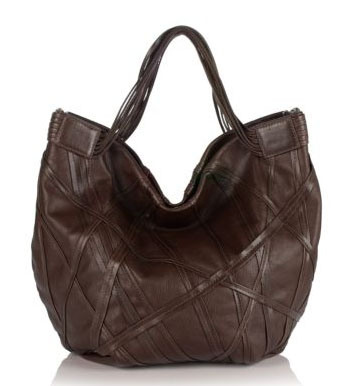 I wish that this bag came in a color besides brown, but I have to admit that it works better in this shade than it would in black. The tonal latticed leather wouldn't be properly featured on a bag that was much darker than this one, but I would have preferred another option – maybe grey?
As a whole, though, this is a really nice, neutral tote that has a lot of personality and style without being obnoxious or poorly edited. I have a feeling that a brand like, oh, I don't know, Juicy Couture could learn a lot from the people that designed this bag. Buy through Bloomingdale's for $475.