It's amazing what a difference a few months and a color change make. Back in October, I was in love with the over-the-top glitz of the Coach Sequin Spotlight Bag. The object of my affection back then was red, but it appears as though that bag was so popular that it's been recreated for fall, this time in…gold.
Yep. Gold sequins.
I'm trying to keep a straight face as I consider this design and it's just not working. With how much I liked the previous version of this bag (perhaps against my better judgment), I now feel ever-so-slightly embarrassed about my previous post. Perhaps hindsight is 20/20 or maybe I'm blinded by the tackiness of gold sequins, but what was I thinking?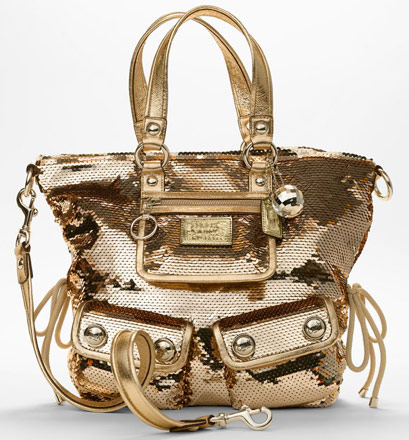 There are no two ways about it – the gold sequins just look cheap. It's possible that I'm suffering from sequin fatigue in general after two season of bedazzled fashion coming at me from every direction, but the combination of the color and material on this bag is just…not good. There's a way to do glam and over-the-top while still maintaining a certain taste level, and this bag is not it. Buy through Nordstrom for $398.