Coach line thus far- this doesn't include the Poppy line, mind you; I'm still deciding on that. But as for Coach- many of us know them as our "first" designer bags, but as a brand they do stand up on their own. They've grown out of the basics and dabble in materials other than leather, never straying from their roots of good craftsmanship and uniquely tooled accents.
I must say, I'm rather pleased with the whole
But lately, I've been most impressed with their use of lovely, dusty colors in greys, lavenders, and pinks, and this Coach Alex Stitched Patent Tote is no exception. Though it's made of patent leather, not leather, the piece comes of as classic and powerful, not at all overly shiny as many patent bags tend to do. And let us peek at the details: the logo pattern is carefully stitched in such a way that it appears to be pressed into the patent- a modern trompe l'oeil, if you will. The outer pocket mimics that of a jeans pocket, and the straps are subtly reinforced at the shoulder.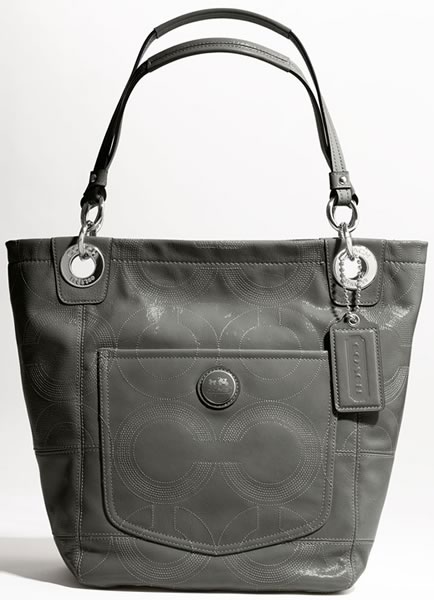 Another practical feature is the zip-top closure, which is a must for travel and even for a secure daily work bag. I'm glad to see that Coach has increased it's expertise from the purely practical to the practically chic- which is, of course, still practical. Buy through Nordstrom for $328.