Botkier fan; always have been. My everyday bag is currently a Botkier Trigger, and it's far from the only one of their bags that I've ever owned. So perhaps I'm a bit biased when I say it, but I quite like the Botkier Ruffle Clutch.
I'm an unabashed
But really, I don't think my love for this clutch is a result of bias at all; I think it's a legitimately beautiful clutch, and I've got a few reasons that I think you'll agree with me.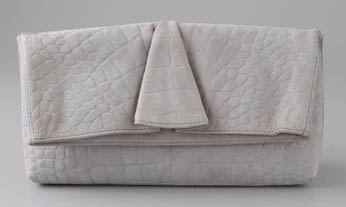 First, the shape of the clutch is extremely clean, and the middle pleat gives it a bit of a retro (50s is the feeling I get from it) vibe without being too obvious or kitschy. It's enough of a variation to keep it from looking like every other fold-over clutch, but not too much of one to prevent the sort of minimalist cool that it has going on. Call it mid-century modern for the handbag world.
Second, the choice of color and texture is perfect. The not-quite-white shade of grey is prefect for any kind of weather and with a variety of outfits. Pair it with a brightly colored sun dress in the summer or a charcoal crepe wool sheath in winter; it would look equally at home in either combination. Versatility is a highly prized trait in any accessory, and this clutch has it in spades.
Third, I'm not great fan of stamped croc texture, but the small size, the simple lines, and the matte finish of this bag manage to pull off the embossing. It's a technique that can make a great bag look cheap fast, but the Ruffle Clutch doesn't fall into that trap in the least. Buy through ShopBop for $350.