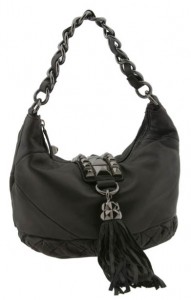 Our commenters: oh so helpful!
I wrote about the Betsey Johnson Whips & Studs Satchel a few days ago, and one of our readers smartly pointed out that not only is there a smaller hobo version of the bag, but that Nordstrom has it discounted right now!
The bag still has a lot of the attributes of the larger version, including the very pretty studded top flap, but it's in a small, arm-carried shape that would be great to take from day-to-night, as long as you don't have to carry a ton of stuff with you. And at less than $150, there's really not much thinking to be done here. Buy through Nordstrom for $129.90!