I'm going to see Lady Gaga tonight in Atlanta and I couldn't be more excited – I'm a total Gaga fangirl, and I'm almost as excited to see what everyone else will be wearing as I am to see the show and hear the songs. Lady Gaga inspires crazy fashion creativity in her fans, and there's little I love more than some good people-watching.
I don't think that the Betsey Johnson Hottie Spotty Velour Hobo is quite cool enough for Gaga herself to wear, but it has all the elements of a potential addition to an outfit that could be worn to one of her shows.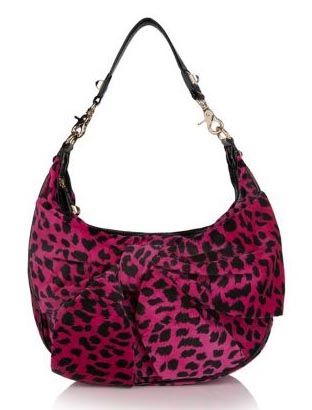 In the interest of full disclosure, I feel as though I should admit to all of you that in preparation for tonight's concert, I bought myself a fair of glittery, silver, leopard-print leggings to wear for the occasion. I am not ashamed of this in the least. If there was ever a place to wear such a thing, it's where I'm going tonight.
My theory is the same with the bag – it's just awful enough to be sort of awesome, in a way, and it reflects two of Gaga's most important style elements – giant bows and neon. And also, it has an almost appropriate level of ridiculous while still be financially accessible to a lot of people, and finding ways to translate that sort of oddity to the mass market is difficult. I don't think Betsey entirely manages to succeed, but as always, I like her enthusiasm. Buy through Bloomingdale's for $168.