Before we get started talking about this bag, a side note: BCBGMAXAZRIA is the most annoying brand in fashion to have to type out repeatedly. Typing words without spaces is not something that anyone's fingers are used to doing, and someone should tell their marketing people that, in this day in age, all caps means that they're screaming at us. And that's rude!
Moving on. Isn't the BCBGMAXAZRIA Ruffled Leather Clutch cute?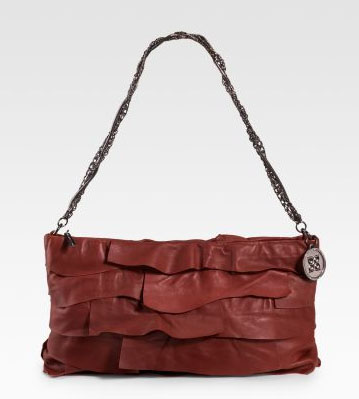 I love a clutch with a usable shoulder strap, mostly because no one really wants to be dancing while holding a bag in one hand and a cocktail in the other. Hold it in your hand for the first part of the night, pull out the strap for shoulder carrying after you're bombed and want to dance in public. Simple! Effective! Pragmatic!
Plus, it isn't bad to look at, either. The ruffles are cute and trendy, but they're not so long or voluminous that it looks sloppy. I'm a bit undecided on this reddish-brown color, but for a bag that has texture like this, black will never properly show it off. Buy through Saks for $258.