Now this? This is more like it.
Earlier this week, we documented a rare Nancy Gonzalez misstep with the Nancy Gonzalez Crocodile and Whipsnake Floral Tote. It lacked the easy simplicity of most of Gonzalez's designs, and it also went without a bit of the luxury for which she's known.
Luckily, I found the Nancy Gonzalez Pleated-Trim Croc Satchel to wipe that from our memories and remind us all why Ms. Gonzalez is the biggest croc designer in the business.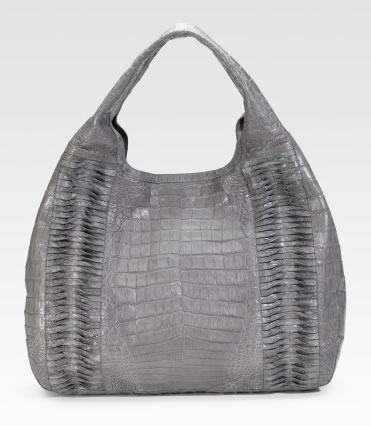 What Gonzalez does best is take a super-luxe material and keep it ultra sleek. The only interruption to the beautiful exotic skin in this bag is some restrained pleating at the sides that looks almost like gills, and other than that, someone obviously used a keen editing eye when designing this bag. It's both functional and luxe, and I don't think that normal use would destroy it – what else could you want in an exotic? Buy through Saks for $3800.