Michael Kors Skorpios Pleated Crescent Hobo. I'd like to even say that it could be my bag pick of the week, but seeing as though it is Monday, I don't want to jump the gun yet.
As I mentioned last week, finally, oh finally, the retail stores are stocking their shelves with all sorts of amazing new handbags. My must-have bag of the day has to be the
All I do know is that this bag is a staple, a must-have, a classic.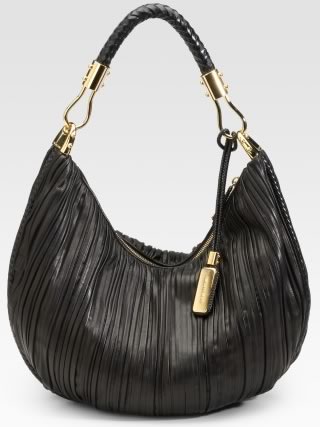 For being a girl who loves simple, understated elegance it might seem a little odd that I only own one black handbag. To me, black handbags are like little black dresses, you might have one you use more than another, but you can never have enough.
I've been in the market for a new black bag for quite some time now and I've already put this bag on my list. It was the pleated body that initially caught my attention. But, it was the single braided shoulder strap and goldtone hardware that locked me in. The dimensions are pretty nice too: 16″W X 11″H X 3½"D and 11″ drop. Of course, there is plenty of room, but at the same time, the bag isn't overwhelming. In fact, even if you are a petite woman, this bag won't overwhelm you. Buy through Saks for $795.