We introduced you to eLUXURY's contemporary buyer earlier, and now it is time for you to meet their Designer Buyer. Andrew Dershaw is Designer Buyer for eLUXURY.com, whose selection I frequent most often for Purse Blog posts. There indeed is someone behind the buying choices for the designer selection at eLUXURY.com and we got a chance to ask him some questions.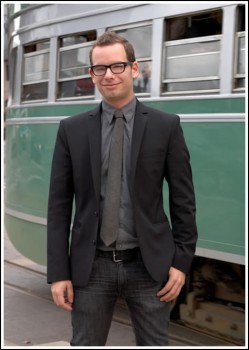 PB: For eLuxury, is there a certain profile of a customer you are looking to attract based on the handbags you offer?
As the Designer Buyer, for me it is more about acting as a filter for of our current and aspirational customers. I need to have a steady feel for current trends and demands, and act as a liaison between our customers and designers to ensure we are serving up the most fresh and must have bags that our customers just have to carry! Our Designer handbag customer's all do share some commonalities though; they need the most luxurious fabrications, in the must-have styles, from the world's top designers.
PB: What is big for this Fall/Winter?
For Fall we started to see what we are calling "the new luxury" emerge. This is more about individuality, quality, and expressing more of one's personal style through their dress. As our socio-economic climate shifts, so does the way we shop. We are seeing less of a demand in our logo and iconic handbags, and much more of a need for bags with new and different embellishment and luxurious details. The Fendi Secret Code Bag and Dior 61 are great examples of this, as well as must haves for the season!
PB: If there was just one bag that you would recommend, what would it be and why?
I couldn't possible pick just one bag, BUT I do think every woman needs two great bags; A staple everyday bag, that will take you everywhere you need to go in style, from the office, to shopping, to around the world if needed. The Fendi Twins Tote is the perfect example of this, a luxuriously functional and uber-chic bag that you can use for years and pass down to your daughters. The second is a fabulous evening bag that screams you. If you're a fun loving romantic at heart the Marc Jacobs Big Heart Zip Clutch is just the bag for you! Check out eLUXURY.com's new arrivals in our handbag section for the latest and greatest!
PB: Are there certain brands you must cover?
We are always on the lookout for the best and the freshest bags in the market place. You can always be sure though that eLUXURY will bring you the must haves from our favorite designer brands, such as Louis Vuitton, Dior, Fendi, Marc Jacobs, Versace, & Tods just to name a few!
PB: Which handbag designer has surprised you with their new line?
There is a lot of innovation going on in Spring. Designers are keeping in mind that women will be picking investment bags, and you will have a lot to choose from! We all went bananas over the Marc Jacobs quilted bags with sporty stripes and woven chain and leather straps, also his mixed media layered bags were to die for. Everyone should also start saving up for the Dior "Le 30"- a chain handle bag with a ruffle closure that comes in the most beautiful leather and exotics. Last, but not least, the Fendi "Peakaboo" is already a new classic. Each bag has a surprise lining inside such as snake, laser cut patent leather, or the classic Fendi logo "Zucca" print. This bag can be worn with one side open, as it came down the runway so everyone can get a peak (a boo) at whichever surprise you decide on!
PB: What bag are you carrying?
My current staple bag is a 3.1 Phillip Lim Magazine Tote. It's the perfect size for my laptop and work documents to go out into the market with, and I can usually still fit this month's Vogue and Numero magazine inside!
P.S. Please consider supporting our small, bag-loving team by clicking our links before shopping or checking out at your favorite online retailers like Amazon, Neiman Marcus, Nordstrom, or any of the listed partners on our shop page. We truly appreciate your support!