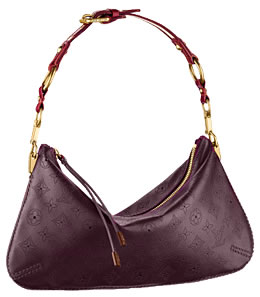 Today is the day of Louis Vuitton on tPB. Another limited edition over at Vuitton is the Onatah leather. Here are some stats on this line (courtesy of the lovely tPF members!!) The Louis Vuitton Onatah comes in two shapes and two colors of leather, aubergine- purple, moka- chocolate color and the shapes are pochette Onatah and Onatah. A major pro to this limited edition line is it does not need to be cared for much there's no vachetta on it. My pick is the gorgeous Louis Vuitton Onatah Leather Pochette. While I usually do not do this, I have to let eLuxury speak about this bag (the description is killer and really lets you know all of the beauty in this line!)
Exceptionally supple calfskin leather dyed throughout and then drummed to softly pull up the grain; a thin transparent coating protects the leather and gives it a slight shine that will develop a patina over time. Minutely detailed perforation technique is used to draw the Monogram pattern; three different perforation diameters. Tinted cowhide leather trim. Brass hardware with golden patina finish. Adjustable canvas shoulder strap with links. Zip top closure with long leather pulls. Silky monogram-patterned viscose lining; one interior flat pocket decorated with a Louis Vuitton badge made of tinted cowhide leather.
What are your thoughts on this new and beautiful line? The Pochette is said to be bigger than regular LV pochettes, but if the leather is a supple as it seems and the color as beautiful as it looks- I'd go for it. Available via eLuxury for $1260.