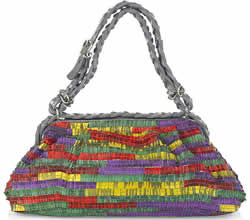 Today, September the 6th, marks a special day. It's the day that Ms PurseBlog Herself, Megs, celebrates her birthday! Yay baby, I love you, Happy Birthday. While I am still stuck in Columbus and only will be flying out tomorrow to go visit her in Florida, it's already party time here at the PB! Feel free to congratulate her in the comments section or on the forum in Roo's thread.
Speaking of party time… this Bottega Veneta bag looks like party time! Megs actually stumbled across it a few hours ago, before Net-A-Porter reported an error on the page the bag was listed at. Who knows, maybe it was just sold out tonight? Doubtful, as the bag will require the buyer to dash out over $5,000 – and the probability of someone buying it tonight – within a short time frame – is pretty slim. But you never know.
Some stats: The limited edition bag has a braided leather handle with silver hardware, multi-colored snakeskin horizontal stripes with gray stitching, slight ruching at top and a hidden clasp fastening at top. The BV bag is lined in blue suede with a silver limited edition plaque on zip fastening pocket inside. In size it measures 12.5 by 6.5 by 5 inches. If you feel like checking NAP for more info, click here.