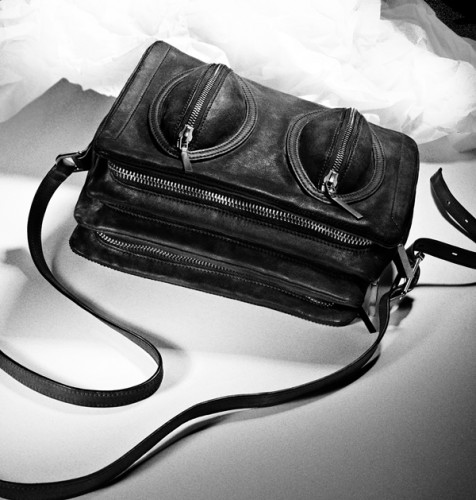 With Social Media taking over most of our lives, there is no reason to think it would not also take over the fashion world. Many designers are using Twitter and Facebook to parlay their previous marketing and outreach strategies into the new age realm. Barneys NY has partnered with acclaimed designer Helmut Lang to launch his first ever handbag, the much anticipated Loki Bag.

The Helmet Lang Loki Bag is exclusive to Barneys Facebook fans in a pre-sale until 2/5, then it will be exclusive to all Barneys customers going forward. The bag itself is inspired by a vintage motorcycle jacket made of black distressed leather. The design clearly stays in line with Helmut Lang's aesthetic and is a peek into the rest of the handbag collection which will arrive in Barneys New York stores beginning February 5th. You know what else the design is reminiscent of… Balenciaga Planet Accessories which featured coin pouches that look like the front of the Loki bag.
Head over to Barneys NY's Facebook page for more info or visit Barneys online!
PS Make sure to like PurseBlog on Facebook too!