As COVID (hopefully!) begins to retreat from our everyday lives, there is a renewed interest in everyone getting out and about – and not just for socializing. Perhaps we need a daily change of scenery, or perhaps we've realized that working in one's pajamas all day isn't the most conducive atmosphere to actually getting much done.
I personally believe – when possible – in the importance of ritual, even down to the daily aspects of our lives: morning ablutions; getting dressed in our daily armor; the transition from home to school, or to work, or wherever it is we go; and the reverse transition (and decompression) once back home. In that way, the transition is not unlike emerging from, and returning to, the cocoon, or the womb, or the cave. And the objects we use to reinforce and serve those transitions serve both a ritualistic and a functional purpose.
Of course, some of these objects serve a more functional purpose than others: the toothbrush, the car keys, the work bag. Ah, wait a minute. The work bag can – and, in my opinion, should! – serve both a functional and an aesthetic purpose. Since you're here reading this, I'm thinking that you probably agree with me on this: otherwise, just throw your stuff in any handy bag and go, right?
The Perfect Work Bag
If you're going to have to carry a work bag every day, it ought to be one that you can enjoy. Back in the day when I used to need to carry a bag to work at my law firm, I wasn't quite up to the Hermès bags yet: while I wore an Hermès scarf every single day (the result of a bet I made with my husband while we were dating that I would wear one every day, and continued to do so even through pregnancy, childbirth(!) and baby-rearing, he finally conceded after ten years and has since become a hearty enabler), I didn't start buying Hermès bags until my older son was 3, I was 34 and married for 6 years. So, while I worked, I mainly carried a Chanel Cerf tote, which was certainly fashionable enough for me at the time, though perhaps a bit clunky for dinner after.
I enjoyed that tote. It was a bag that I had saved up for and felt good about. After a few previous disappointments (including a lovely Delvaux I had purchased at Saks, which soon broke, was sent to Europe for repair and – eventually – refunded), I felt confident having a good, well-made, functional and attractive bag for daily use, which would see me through from work to meetings to court to dinner. If I had been able to purchase an Hermès option (or if in the future I ever decide to practice as a lawyer again), I definitely would have considered these:
If you're looking for a classic work bag that is actually designed to be a work bag with a hearty dash of Hermès style, take a look at the Kelly Dépêches Briefcase (Dimensions: L 36.6 x H 29 x D 5 cm for the Dépêches 36) with the Kelly Turnlock closure. The inside is open, with a zippered section along the back of the bag. This is a great bag for carrying a lot of paperwork with room for personal items for those who don't need or use a shoulder strap (I personally don't, bag straps always slide off of my shoulders).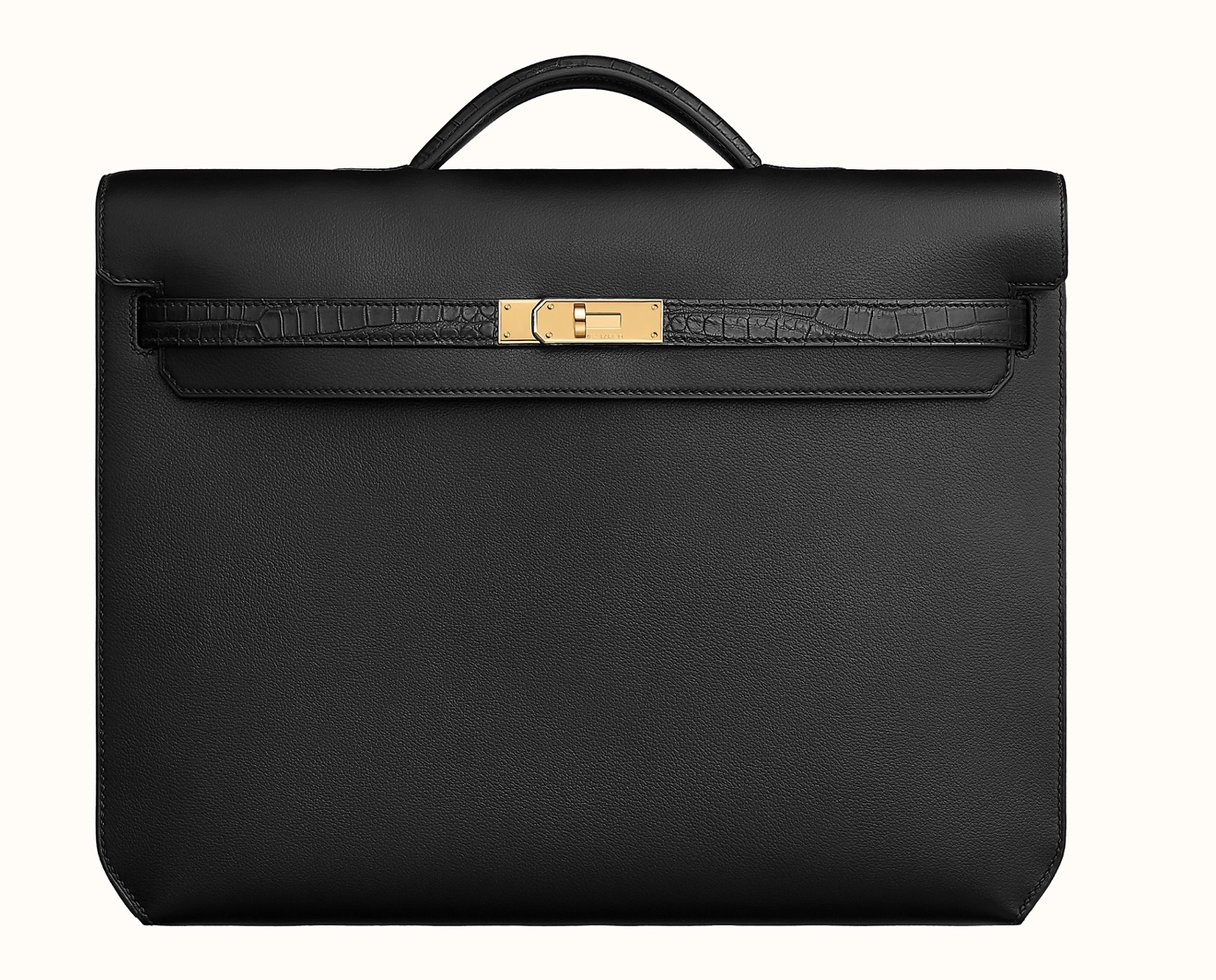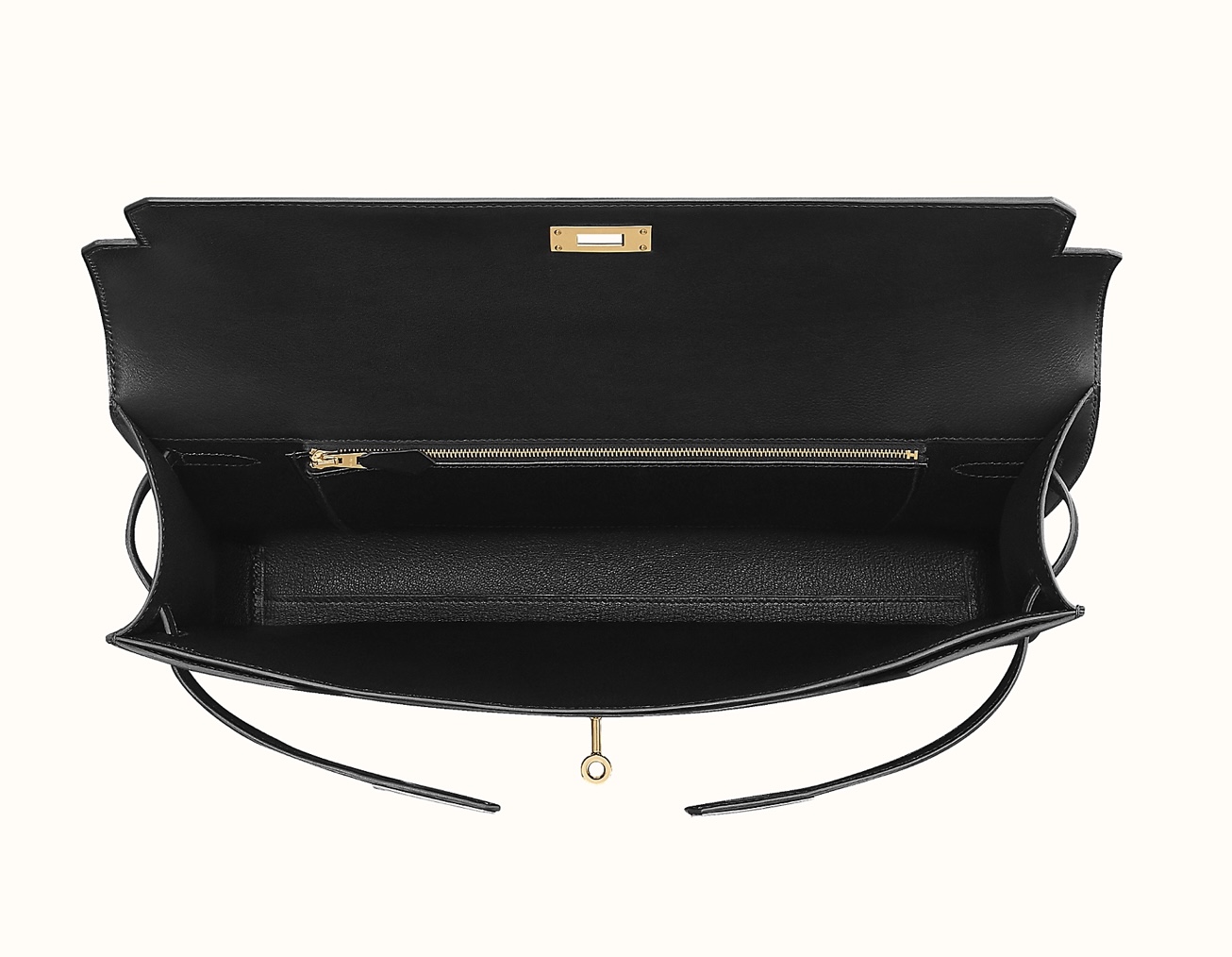 For the Fashionista – the Birkin
Is it cheating if this is an obvious suggestion? The original diaper bag tote is perfect for work, AND whatever may happen after. Since the Birkin is produced in a variety of sizes, you have several options depending on what you need to carry. If you have to tote around a lot of things every day, the 35cm or even a 40cm would be appropriate (just be prepared for some extra bicep curls beforehand as prep work for carrying a bag that may become a bit heavy, especially if you slide a laptop into it). You cannot beat the style when it comes down to it (as long as this isn't too much of a flex at the office).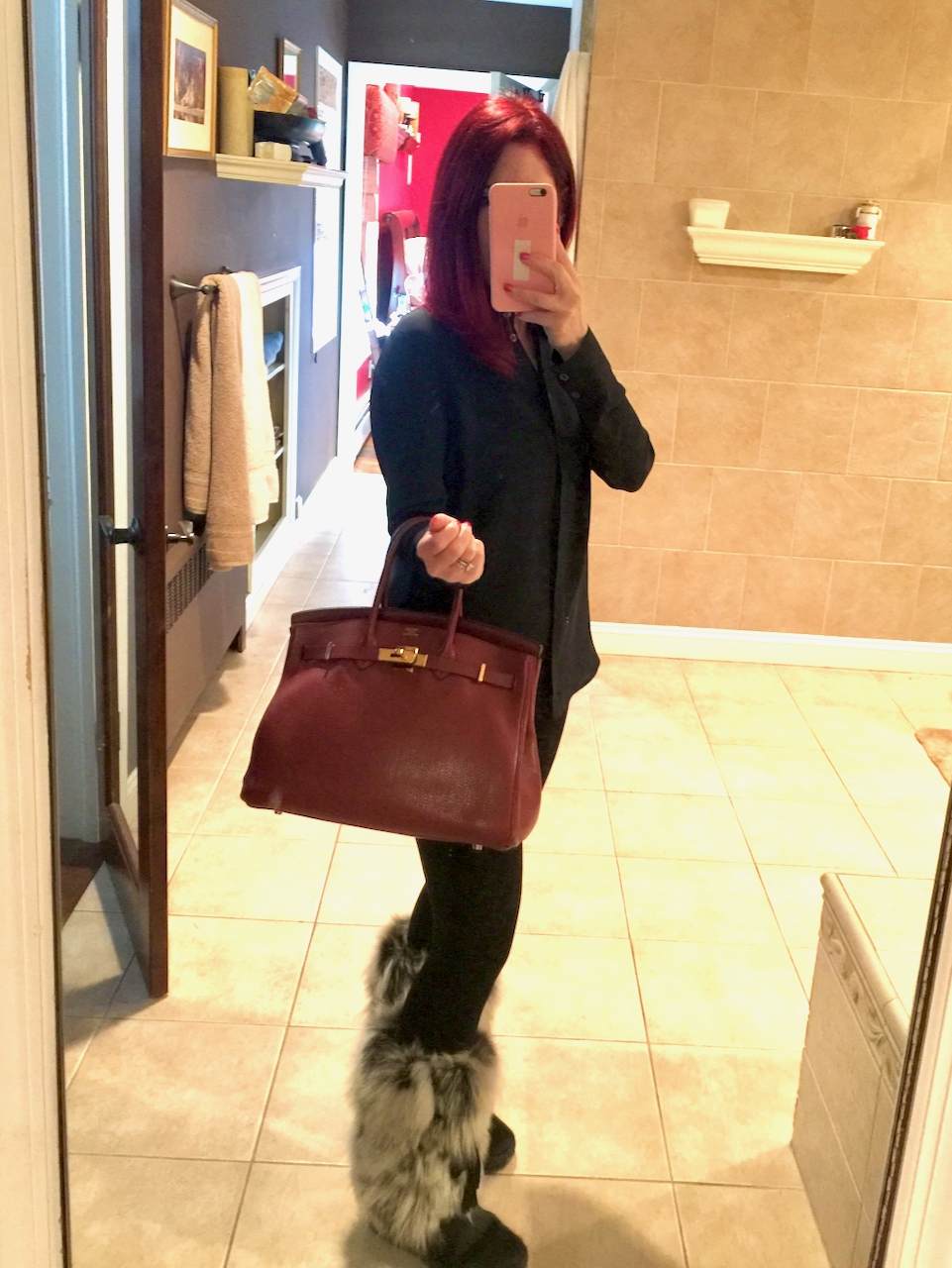 For the Sophisticate – the Bolide
When I was going to the office, I used to alternate my Cerf tote with a bag that was very similar in shape to the Bolide (or the very similar Bolide 1923). This is a good option if you prefer the security of a zipper but don't want something as fidgety as a Kelly Closure. While you are a bit more limited in what you can carry, the Bolide is a very elegant bag which, in the larger sizes (31cm, 35cm, or the large 45cm – really anything other than the mini or the 27cm), is perfectly fine as a day-to-night option.It has a shoulder strap, too.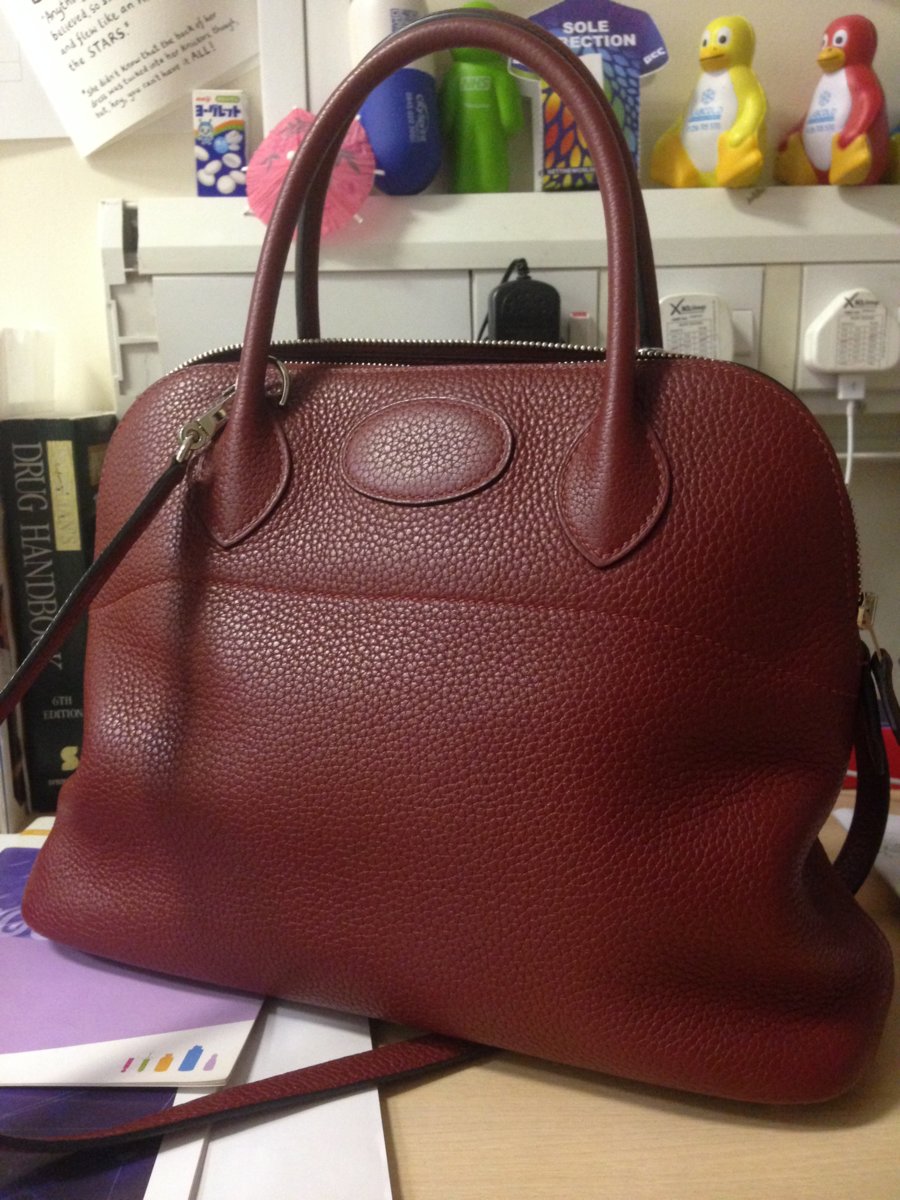 The Plume and the Victoria are both bags with a very simple design – essentially a rectangular box with handles (both have also been produced in the elan, or elongated, versions). Besides the leather zipper pull, they have no adornments whatever, making them beautiful but comparatively under-the-radar designs for some stealth luxury. While they are similarly shaped, there are important distinctions between the two:
There are a number of differences between the Plume and the Victoria –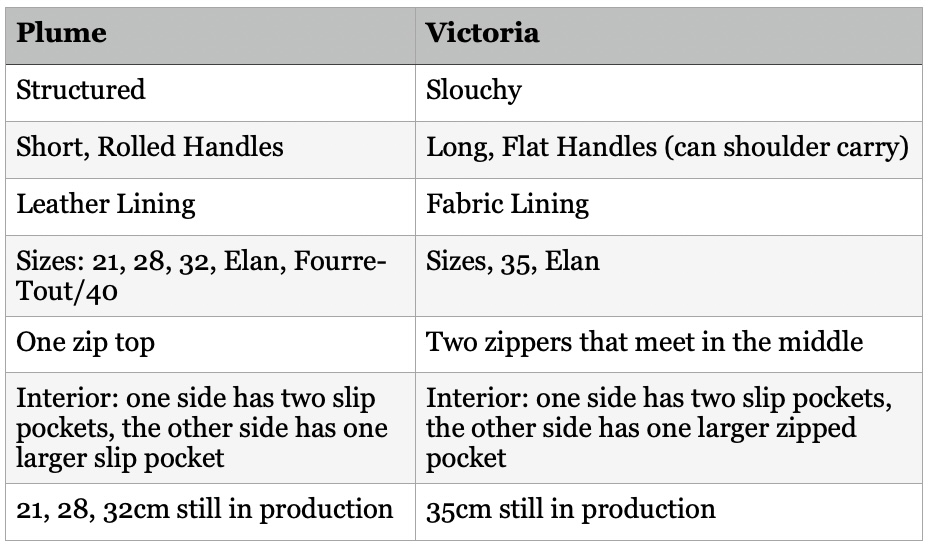 Although we haven't seen too much of either of these designs lately, they are still in production, and, as I reported last Spring, the Victoria is the first Hermès bag design slated to be produced, in conjunction with Mycoworks, in the new sustainable material Mycelium. Plus, there are plenty of options available for sale, vintage or secondhand.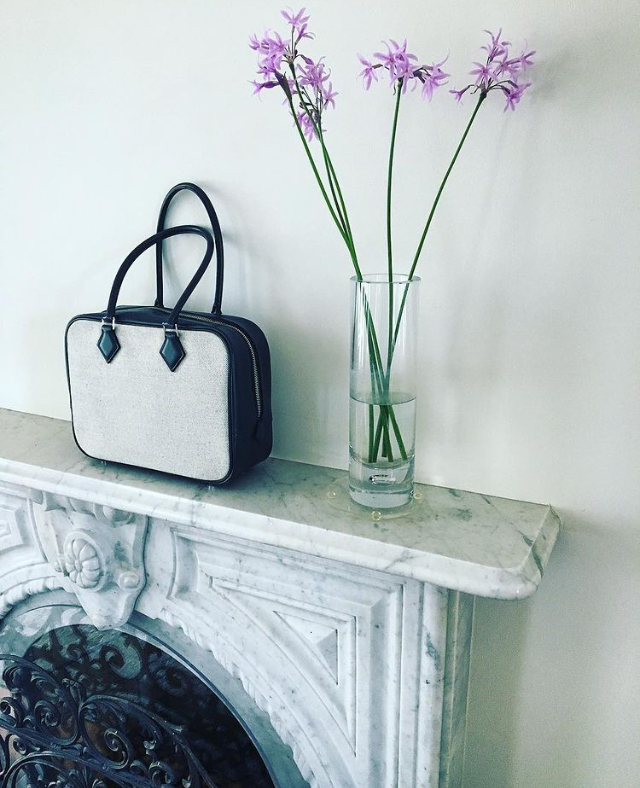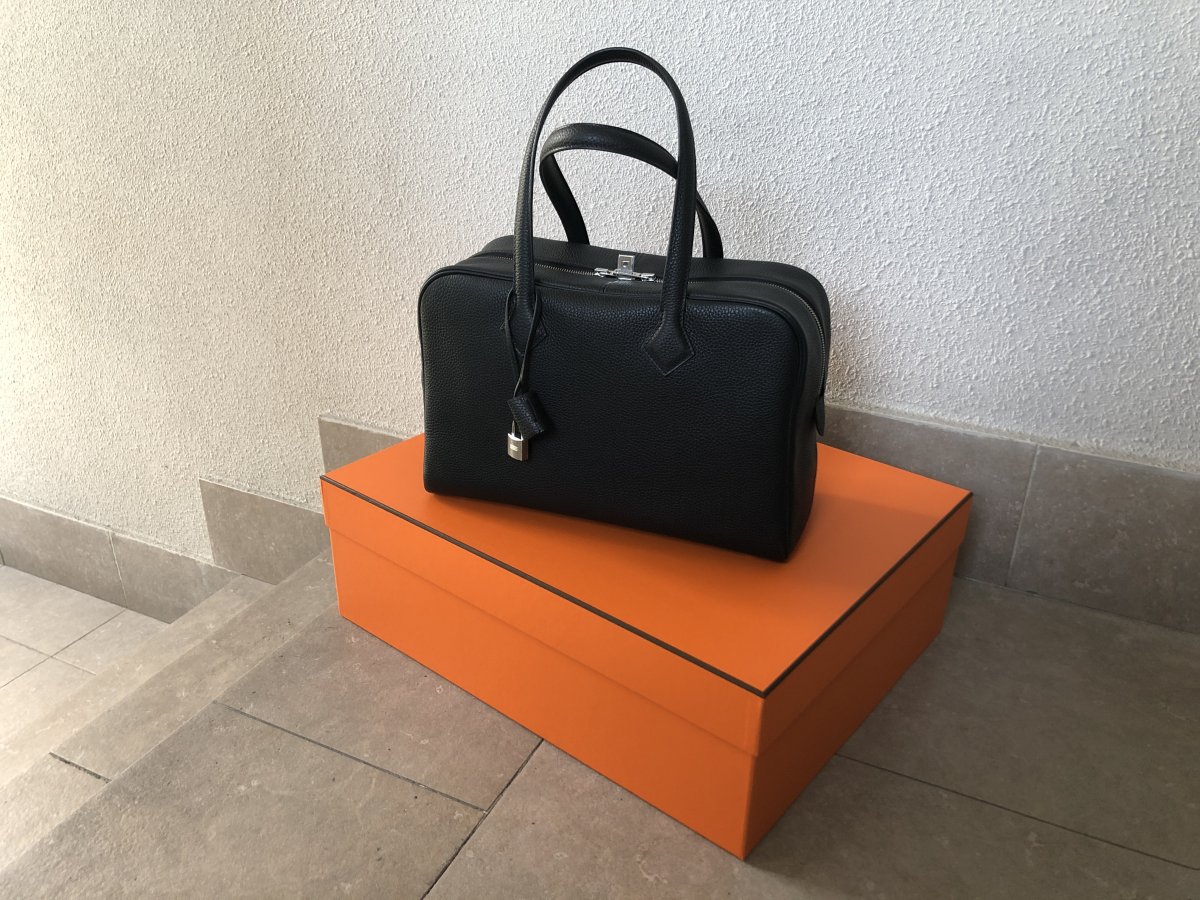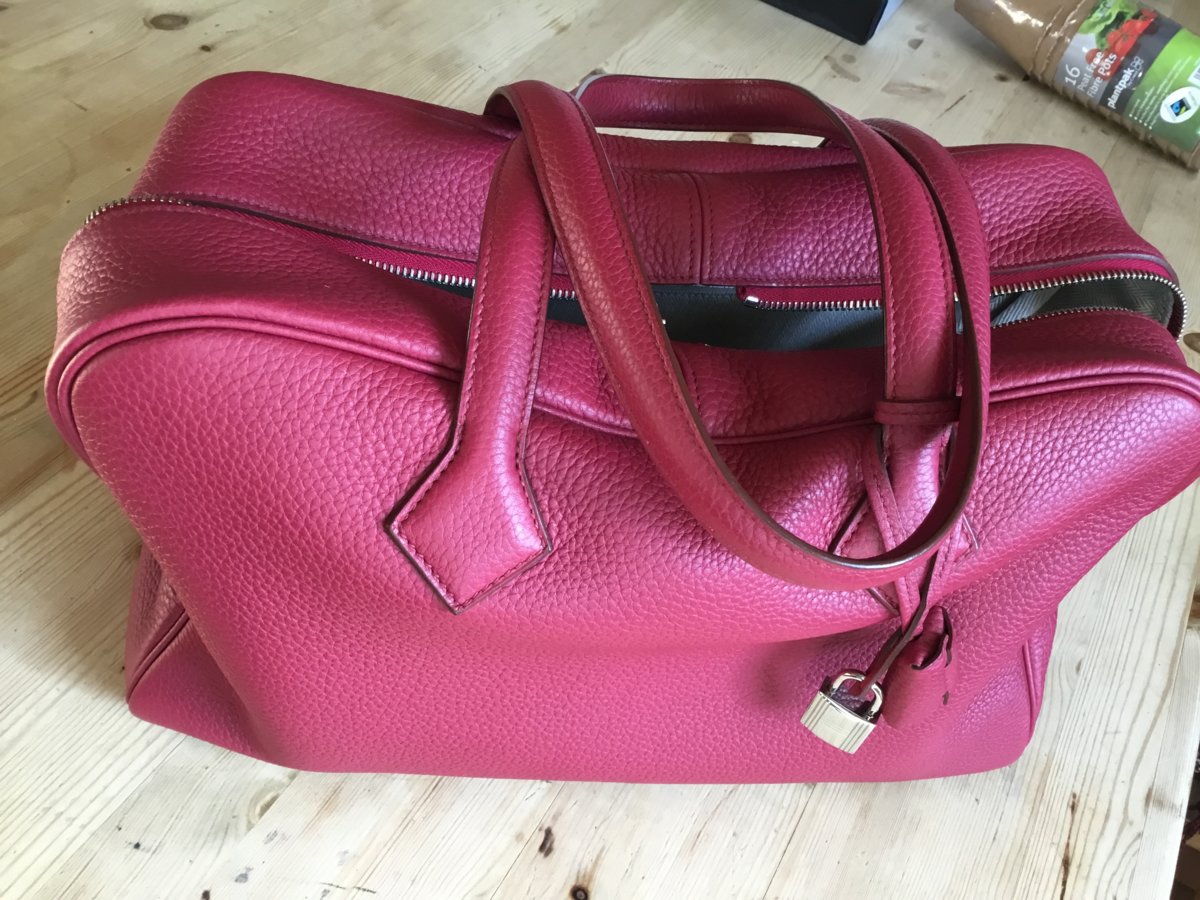 Ah, I LOVE the vintage Drag – to me, this seems like a bag Hermès would make for women who wanted to carry an elegant work bag without it looking quite like a briefcase. Produced in 27, 28, 30, 32, 37, and 50 (travel size)cm, with an interior like the larger Sellier Kellys (2 slip pockets on the front side, one long zip pocket on the backside)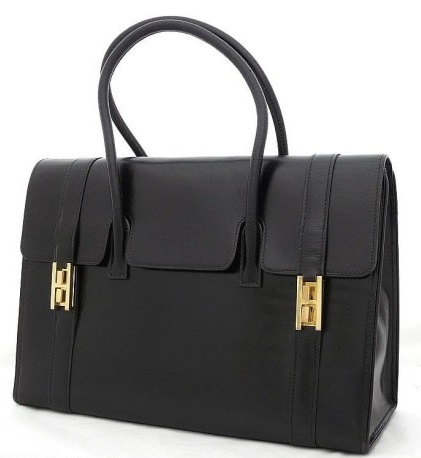 Honestly, I'm not so much into the Whitebus, but it certainly has its fans. A very structured tote bag with no closure at all, this was produced in a 20cm, a 40cm, and a vertical version. The exterior has one large pocket, and the interior has one large slip pocket and one large zip pocket. You can still find these on the resale market.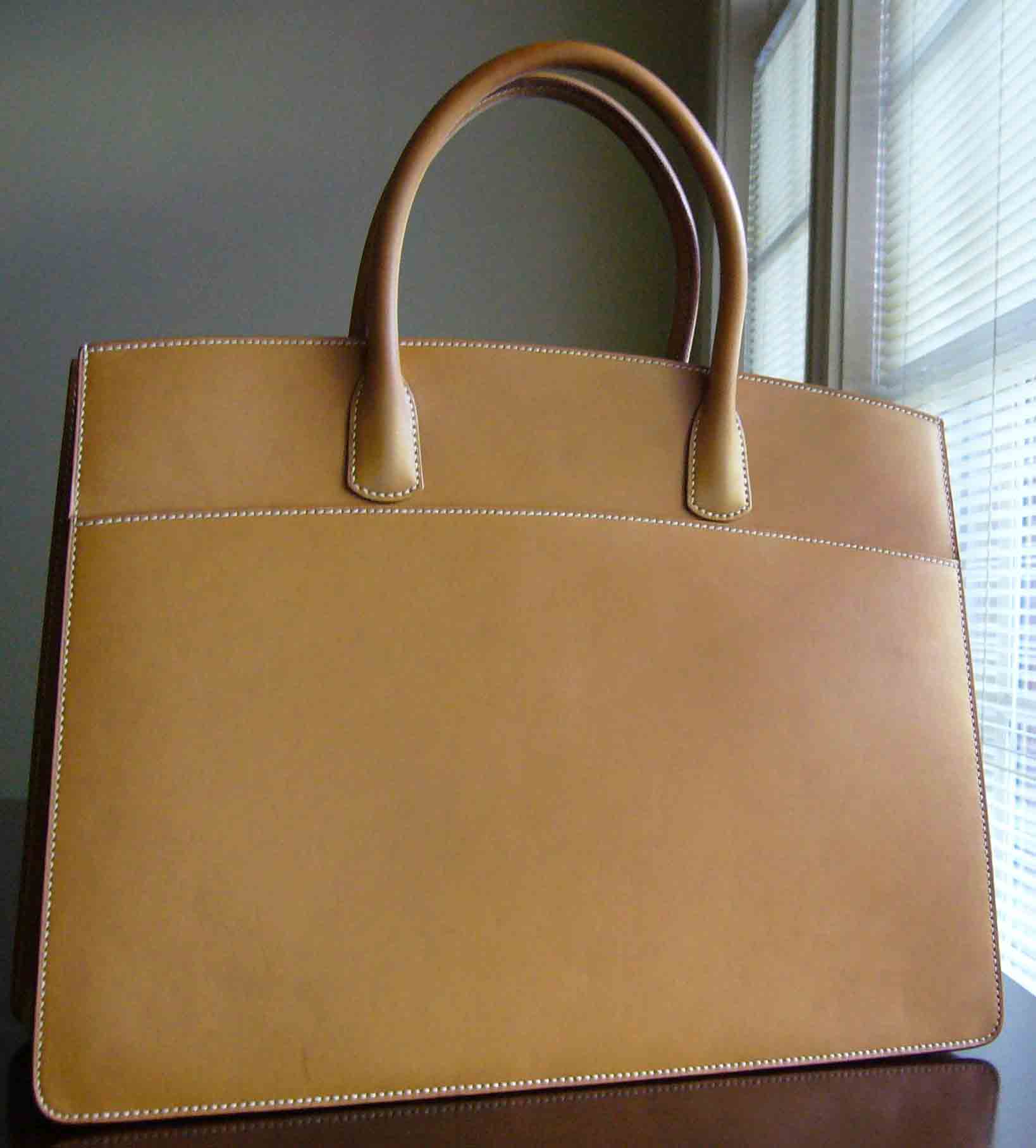 If you're doing a lot of traveling about and don't work in a traditional (legal/business) office, the Jypsiere is a bag to consider. Worn on the shoulder or crossbody with the very secure Kelly closure and produced in the 28, 31, 34, and 37cm sizes, it's also a great option for carrying a lot of things to more causal work settings. TPFers suggest the 37cm size carries about the same as a 35m Birkin.