When it comes to record-breaking bags, look no further than Hermès. We all know that time after time at auction, exotic and diamond-encrusted Birkins break records as the most expensive bag ever sold. Privé Porter has consistently broken previous records, with its last ultra-rare Birkin selling in 2016 for $298,000.
But Privé Porter's owner Jeff Berk is sitting on the next bag he knows is certain to smash the existing record. In fact, Berk admitted to me he already passed on an offer from a Middle Eastern client for $500,000, opting instead to take this bag to auction this coming fall or winter. Enter the Hermès 30 cm Gris Cendre Diamond Himalaya Crocodile Birkin with 18K Gold Hardware, said to be one of the rarest, most difficult-to-find bags in the world. This version has 18k white gold hardware with diamonds.
Berk reports this bag was purchased in 2013 in the Las Vegas boutique for around $250,000, and today he feels strongly it will easily break $500,000. What compels someone to spend over double the purchase price? Exclusivity and rarity. If you are a bag collector and have the means, owning this bag may make you one of few people in the world to ever put your hands on it. And from what we've been told and from our research, there may have never been another bag like this made. Another huge fact to keep in mind is that the last highest sold bag ever was $382,000 by Christie's in November of 2017 at its Hong Kong Auction. That record holding price and a couple before it were for the 'Regular' Diamond Himalaya (not Gris Cendre). Berk told me he believes there are about 60 'regular' Diamond Himalaya Birkins out there (including 25cm, 30cm, and 35cm). That price was already hefty but once this bag sells for over $500,000 we are looking at a massive jump in price for the most expensive bag ever sold, one that marks over a 30% increase, and one that may never be met again. This could be a record that stands for the foreseeable future (more on that below).
Many bag lovers know about the Hermès Himalaya bags, but in speaking with Berk, I've learned some additional interesting facts. Berk will be releasing a new book soon, Moneybags, and to gather information for the book, he spoke with Hermès employees and clients who are educated (often more so than most Hermès employees) about the brand.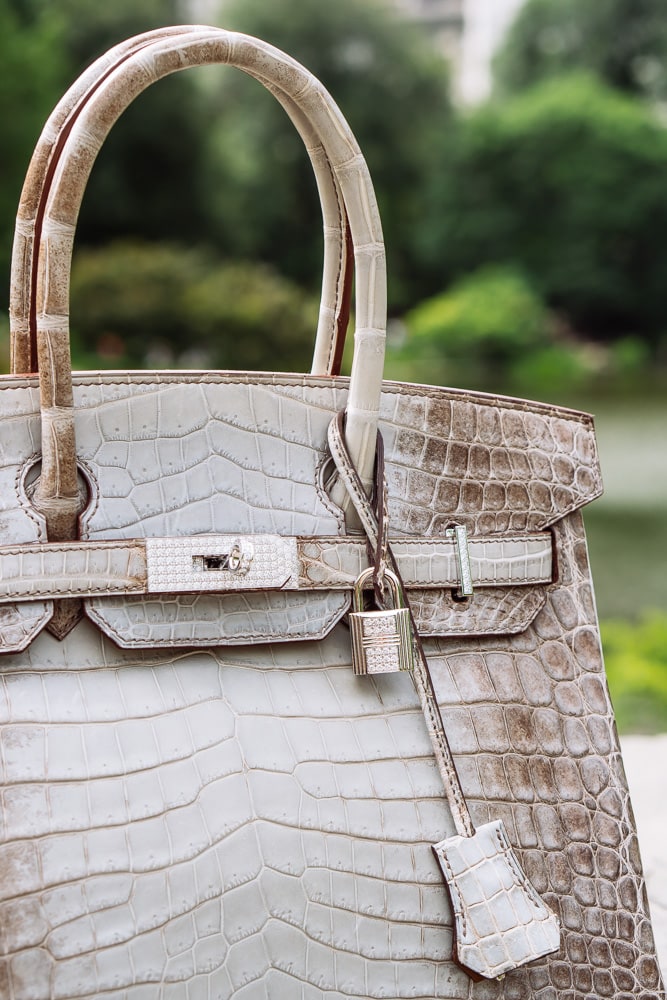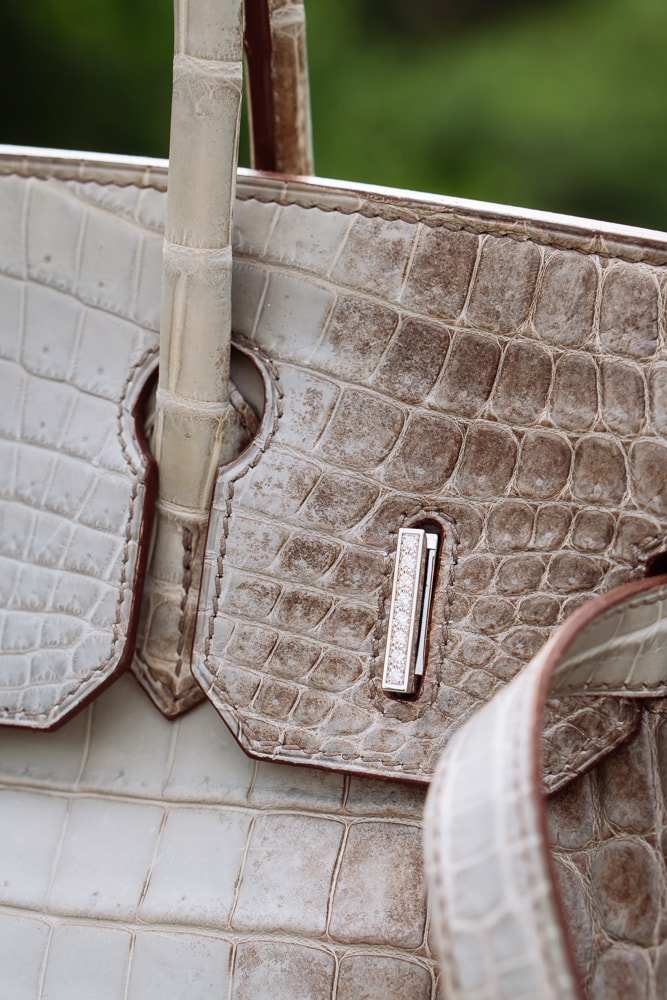 The Making of an Ultra Rare Holy Grail
The common belief is the regular Himalaya bag, either a Birkin or Kelly (meaning not diamond and gold hardware) is made once for every 100 other niloticus croc handbags. During the 2010-2012 run of the Gris Cendre Himalaya, the estimation is that only one Gris Cendre was made for every 10 Himalaya bags. Berk spoke to a craftsman at the Madison Avenue boutique last month, who told him he had only heard of or seen one Gris Cendre with Diamond and Gold Hardware Birkin. This matched with his other information that the only other one made, a 35cm, was sold in Beverly Hills in 2012. Though we don't know the owner of this bag, the only image of a "regular" Gris Cendre Birkin (meaning no diamonds) I've been able to find was on Tamara Ecclestone, who has amassed quite the Hermès collection herself.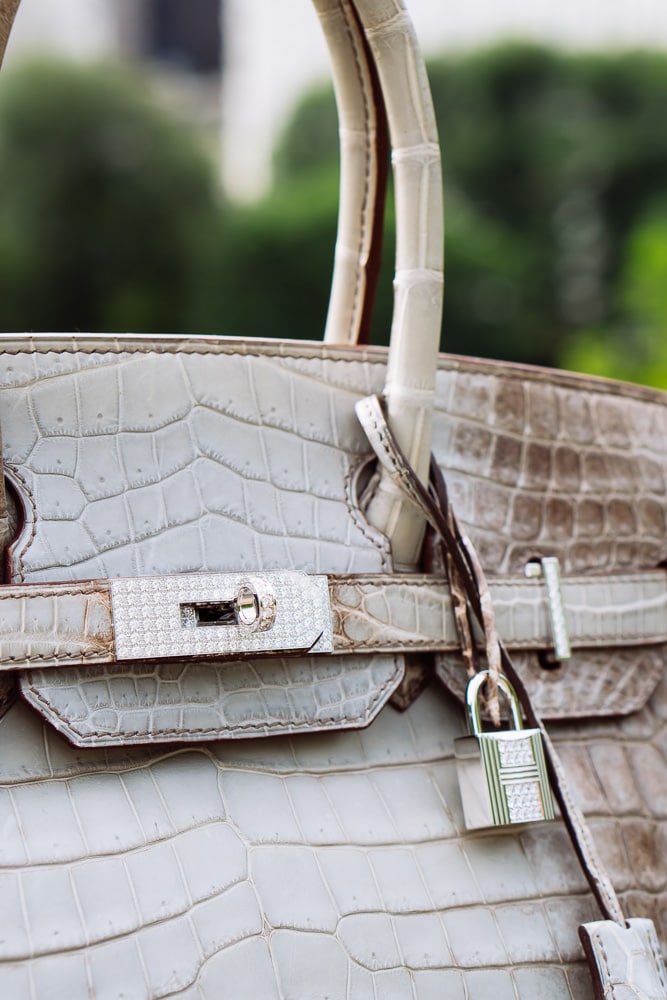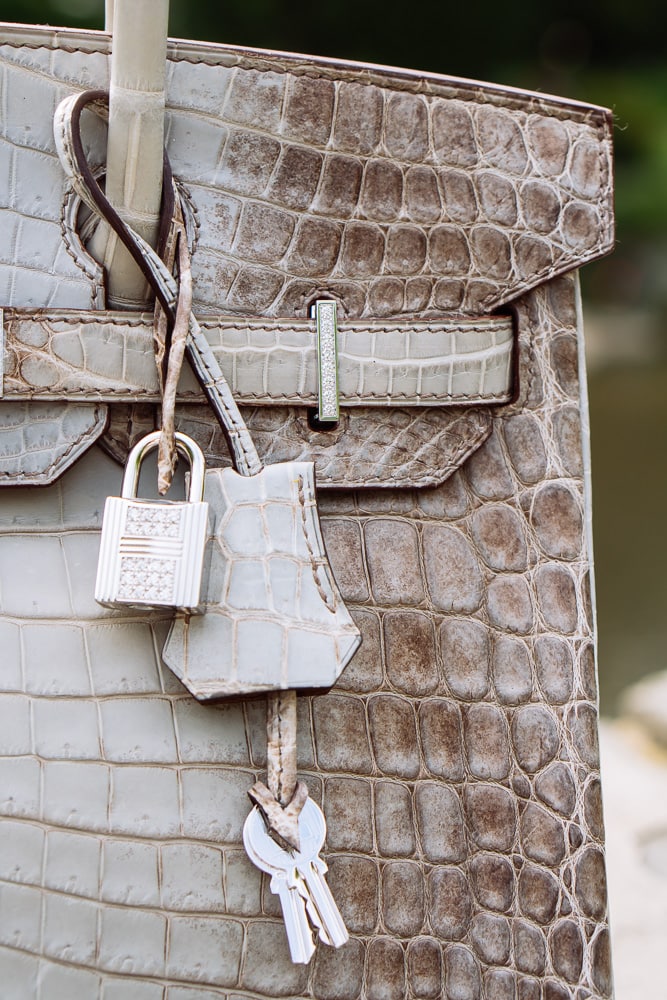 With the facts and figures shared above, the belief is there were only two Hermès Gris Cendre Diamond Himalaya Crocodile Birkins made, and this the only one with this exact hardware configuration. There are rumors that Gris Cendre may never be made again, which leads me back to my point above — whoever places the highest bid on this bag will be the owner of a bag that is not only extremely rare, but also may remain the most expensive bag sold for a long time to come.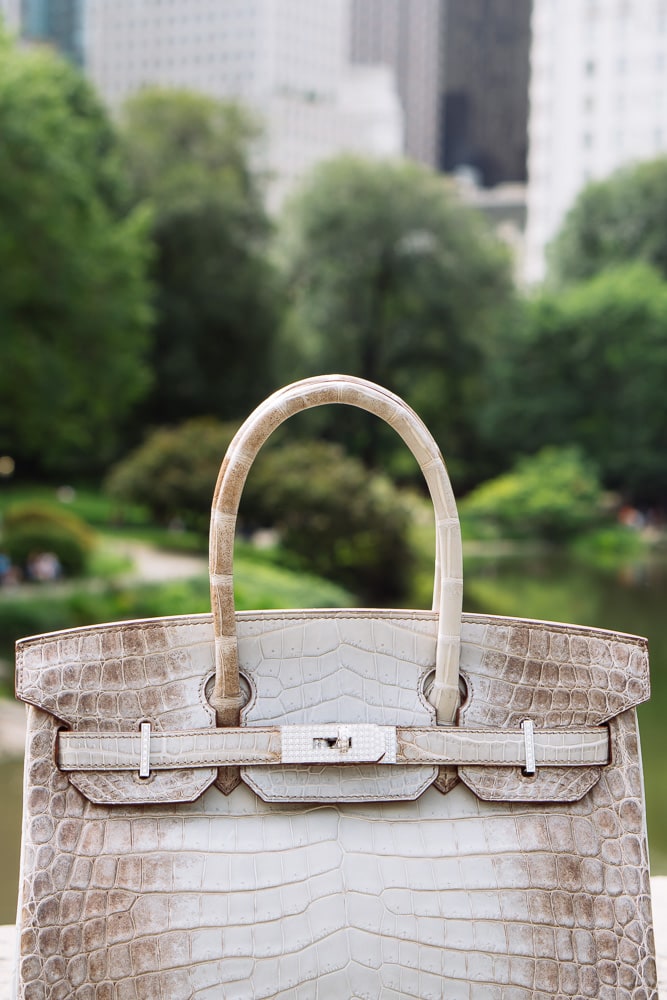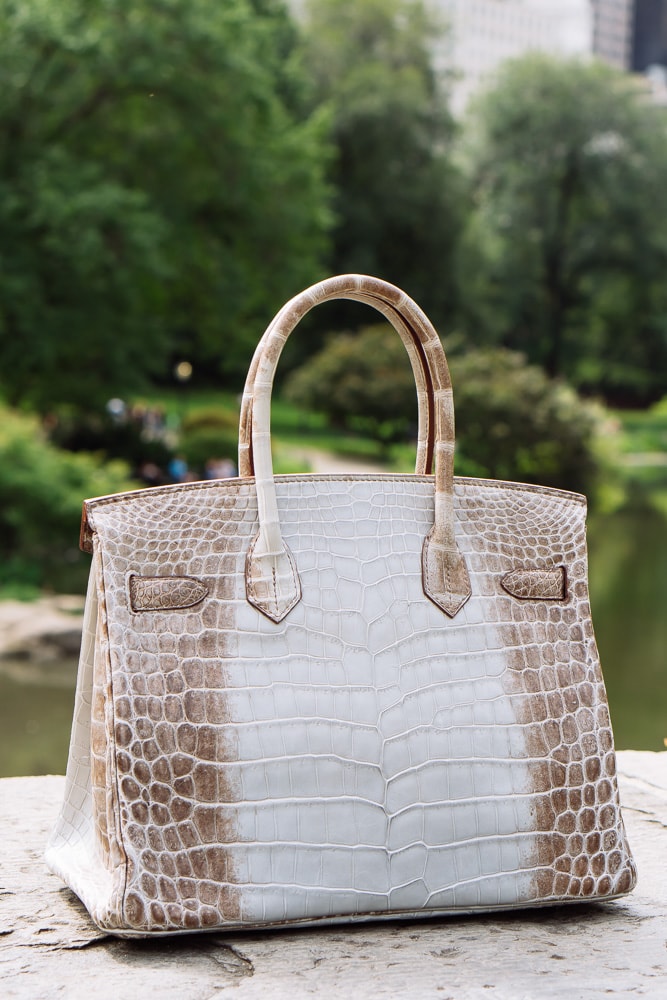 We'll keep you posted about the news on this bag, as it is sure to break records. And though I won't be bidding myself for obvious reasons – one being finances -I find a bag and story like this so interesting. And what I really want to know is who buys this bag (though probably will never, unless the person wants to share) and how they plan to use it.
Wouldn't you love to take a peek in the new owner's bag closet?
P.S. Please consider supporting our small, bag-loving team by clicking our links before shopping or checking out at your favorite online retailers like Amazon, Neiman Marcus, Nordstrom, or any of the listed partners on our shop page. We truly appreciate your support!