If you follow us on Instagram, then you already know that a couple of weeks ago, I had a very fun Friday when I waltzed right on into Gucci on 5th Avenue, proclaimed "I'll take that one," swiped my debit card and walked out with a brand new baby all boxed up and ready to make her debut. If you didn't yet see, than you may be surprised that after months and months of deliberation, I finally made up my mind and I truly couldn't be more pleased with my purchase. The minute I got back to my apartment, I filmed a quick unboxing for our Instagram, and jammed all of my stuff right on in. From that moment on, I've been obsessed with my Gucci GG Marmont Matelassé Shoulder Bag.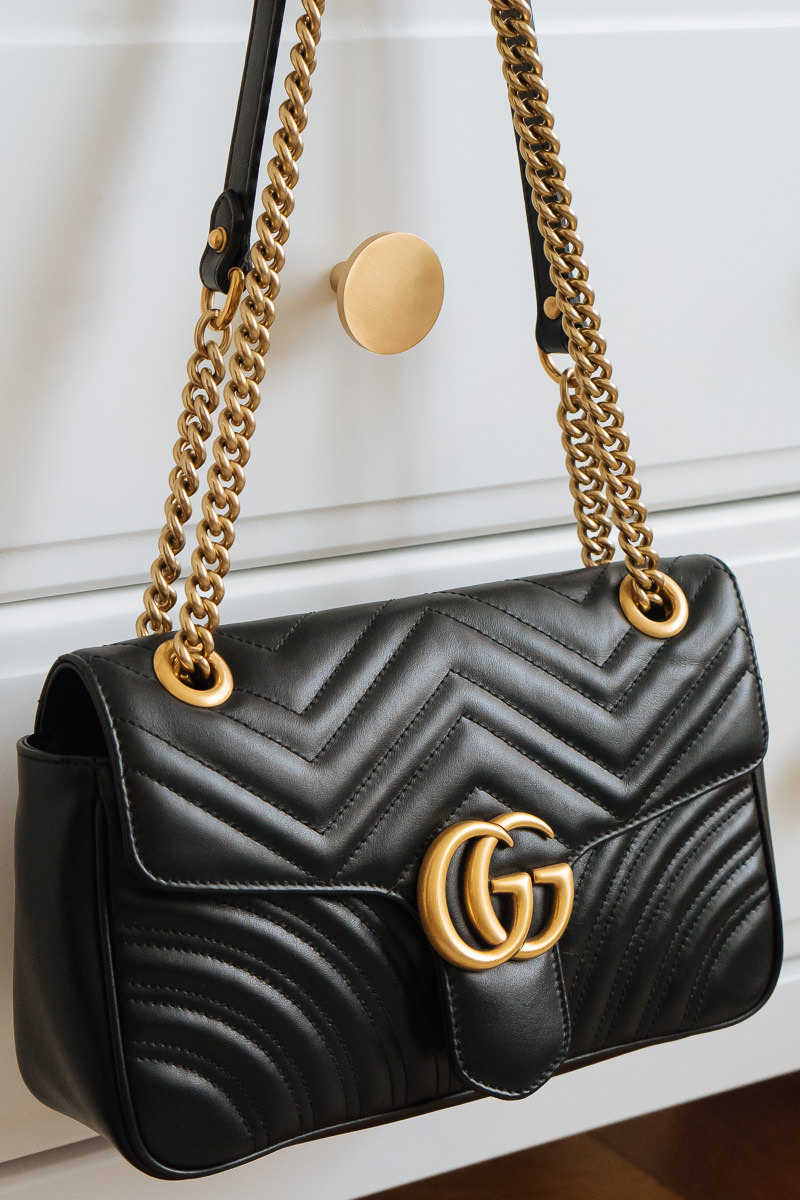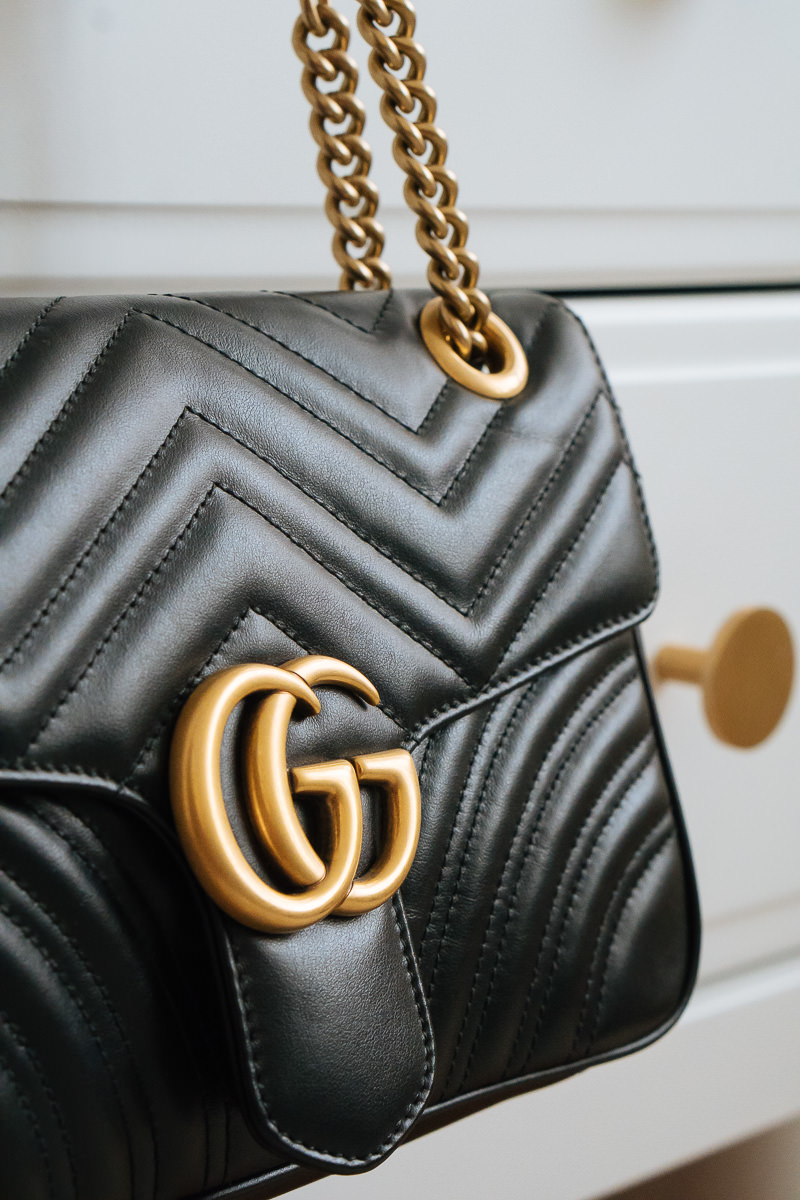 I've had my bag for over two weeks now and have used it pretty much every day since—even traveling to Florida this past weekend for a wedding with her in tow. So I feel like I can give you guys a pretty accurate purseonal review. After one too many hours of thinking, I finally had my mind set on the Marmont over something from the Dionysus collection or a bag from a different designer all together. When I went into Gucci, I was deciding between getting the mini and the small, and ultimately I decided to get the small. The price difference between the mini and the small is negligible—only $190, so it makes sense, unless you're really committed to getting a mini bag.
It's interesting to note that the mini has recently gone up in price to $1,790 from $1,690 on Gucci's website, though some online retailers still have it listed for $1,690. Price aside, I wanted a bag that could transition easily from day to night, and this size is totally perfect for me. I have a Gucci SoHo Disco Chain Bag from a few years ago that I've shown a whole lot of love to and use all the time, and so I felt the small was the best size option for me as it's pretty comparable to my SoHo Disco.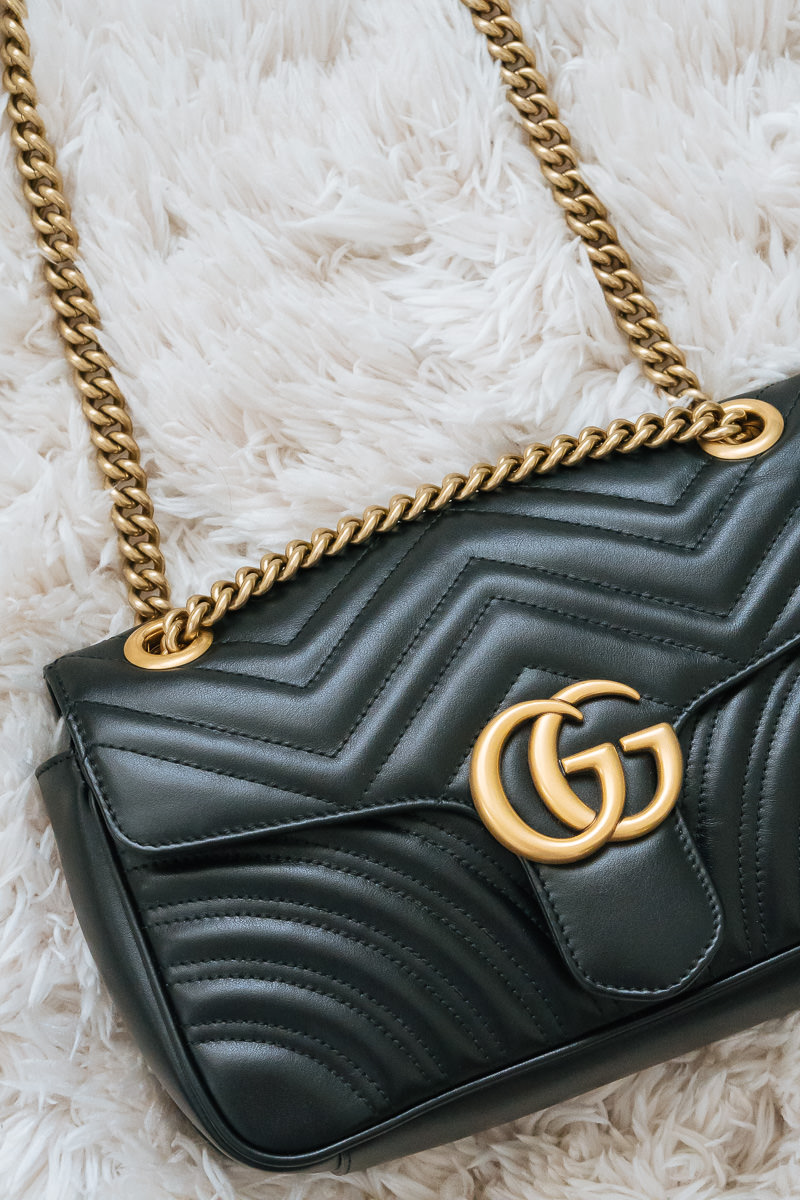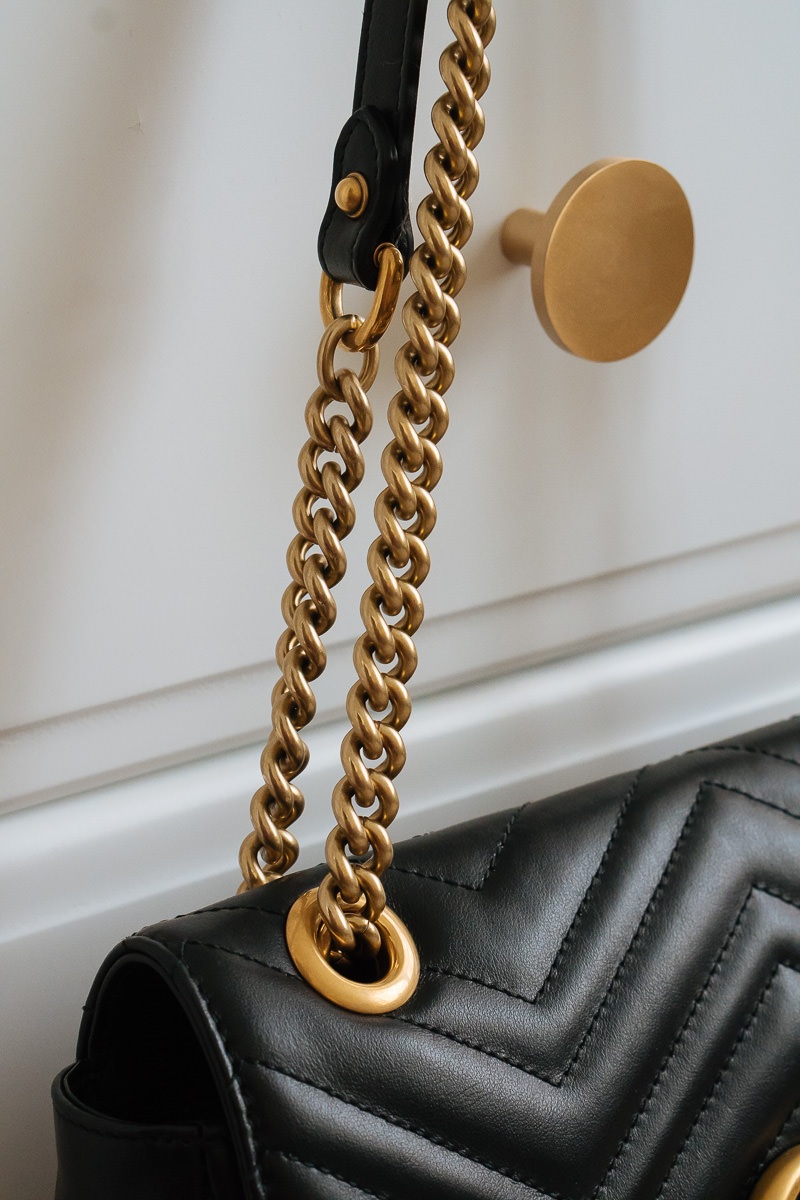 I simply adore my new bag for so many reasons. One of the things that really drew me to it is the hardware, which is muted and matte instead of overly shiny. The matelassé leather is also understated and not overly puffy. The leather is soft and luxurious, yet pretty durable. I haven't babied this bag at all—it's been out all day through all hours of the night, and as I mentioned above, I even travelled with it. Even with all of the use, I haven't seen a single scratch, which is huge. I have plenty of bags that I treasure, but wouldn't dream of bringing along with me on a night out in NYC, but this bag isn't one of them. Because of the quality and the color, I'm not afraid of using it, and that says a lot! There's nothing worse than spending a lot of money on a bag only to have it sit in your closet because you're afraid of using it.
The functionality of this bag is also what drew me to it. I like that it can be worn over the shoulder long, doubled for a shorter strap drop or worn crossbody. With my busy lifestyle, I definitely wear this bag crossbody the most, but this weekend I wore it to a wedding and wore it over my shoulder, but not doubled and it didn't slide off of me. I like that it has a leather area that rests on your shoulder, which not all chain bags have. Inside, I fit all of my usuals, and below is a shot of what I actually—really, it's all my stuff!—carry day to day. At times I have a second phone in there as well for work, so this bag can actually hold a decent amount! There is one interior zip pocket, which I haven't actually used that much, because I've been keeping my cosmetics in a mini case. The bag is lined in durable microfiber, but it feels like suede. Overall dimensions of the Small GG Marmont Matelassé Shoulder Bag are 10″W x 6″H x 3″D, with a shoulder strap drop of 22″, or a top handle drop of 12". Snag one of your own via Gucci for $1,980. What do you think of my decision? Do you want one too?