In fashion, sometimes the worst thing you can say about a design is that it's…fine. At least when a bag is cosmically awful, the designers tried a little bit of something. A chance was taken, a personality was exposed, and even if those kinds of adventures don't always work out, it's always encouraging to see a design who's willing to gamble.
The Gucci Madison Ostrich Tote isn't a bad bag by any stretch of imagination. I wouldn't hesitate to carry it and I'd be proud to own it if it somehow came to be mine without any money changing hands, but I couldn't imagine swiping a card to make this particular purse mine. The design doesn't have enough visual interest to be eye-catching and the lines aren't sharp enough to call it minimalist. It's just…fine. And "fine" isn't worth four grand.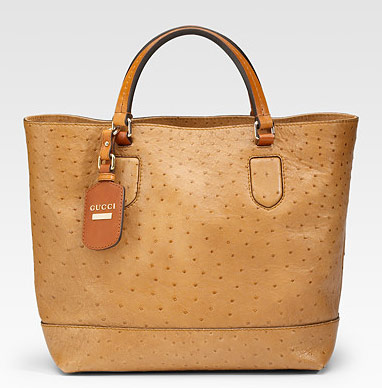 Ostrich skin is an underused exotic to be sure, and no matter how noncommittal and bland it can be, tan is a useful color to have around. If the rest of the Gucci spring pre-orders that just popped up across the internet had been exciting and interesting, perhaps I'd feel more excitement about this bag. Unfortunately, they're almost all tan, and they're all…fine. In fact, this ostrich bag is the most exciting of the bunch, which is faint praise if I've ever given it. At least it's lined in leather. Buy through Saks for $3900.