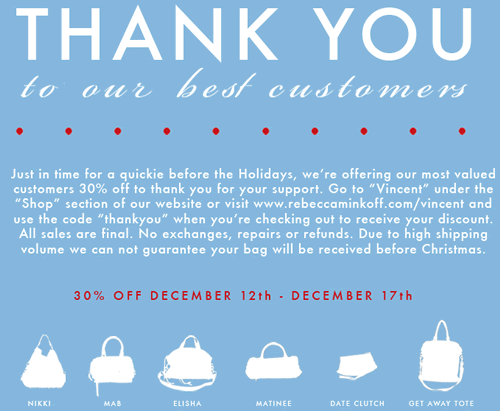 Rebecca Minkoff is as big a fan of all of you, her supporters, as you are of her! Staying true to her fans, Rebecca wants to give back to you for your loyalty to show her appreciation and support. And because she wants to give back, Rebecca is offering 30% off for Purse Blog and Purse Forum Members!! Yes, sit down and pinch yourself, this is REAL! This shows how truly down to earth Rebecca is, because as her brand grows, she still focuses on her customers and always wants to give back.
Rebecca has someone in the office to handle the phone calls, but you can order your bags right off her website in the exclusive "Vincent" section. This section will have the bags that you can choose from to receive 30% off (only this section can be applied for 30% off). So go now, beat the gal next to you, and grab one of your Rebecca Minkoff favorites at a huge discount! On checkout you will apply the code: thankyou. Each order will take 48 hours to process and for you to receive your tracking number, unless you specify for over night delivery. She can not guarantee it will make it for Christmas though! Take part of Rebecca's thank you to all of you, and grab a great bag at a great price, a gift from Rebecca herself!
Bags included in "Vincent" are: Blind Date Clutch, Clutch, Date Clutch, Easy Bag, Elisha, Get Away Tote, Jane, Kiss and Makeup, Matinee, Morning After Bag, Morning After Mini, Nikki, and Mini Nikki!